A $41 million University of Hawaiʻi at Mānoa transformation project to revamp Sinclair Library into a state-of-the-art student success center is closer to becoming reality. The project is expected to be completed by fall 2024, with construction set to begin by the end of 2022.
UH officials will shortlist three design-build project finalists by the end of November and award the contract to the best value team in March 2022. By winter 2022, current Sinclair Library occupants will be relocated around campus to allow construction to begin. The center is expected to be open for use by fall 2024. Funding for the student success center was approved in the 2019–20 fiscal year.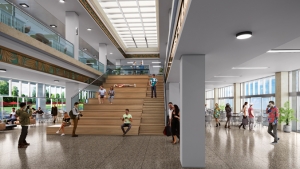 When completed, the center will enhance the student experience by creating a vibrant hub of modern, comfortable spaces that encourages students to remain on campus between classes and after hours for individual study, group study, academic advising and tutoring, other campus services and much more.
Sinclair Library, adjacent to Hemenway Hall, Campus Center and the Warrior Recreation Center, is a prime location for the modernized center, delivering the type of space needed to keep UH Mānoa competitive with other universities.
Related UH News stories:
This work is an example of UH Mānoa's goal of Enhancing Student Success (PDF), one of four goals identified in the 2015–25 Strategic Plan (PDF), updated in December 2020.