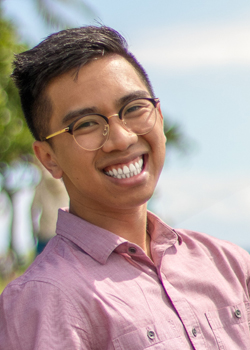 Four University of Hawaiʻi at Mānoa alumni were featured among the state's top innovators under the age of 25 by Pacific Business News (PBN). The publication recognized six young entrepreneurs who are bucking the status quo in various technology sectors.
Kevin Nguyen
A 2019 communication graduate with a focus on information technology, Nguyen, 24, is the program assistant for UH Mānoa esports, one of the fastest growing organizations on campus. Under the guidance of Nguyen and Nyle Sky Kauweloa, a communication and information sciences PhD student and head of the UH Mānoa Esports Task Force in the College of Social Sciences, more than a dozen students assisted with tournament operations for four summer Overwatch League (OWL) tournaments and OWL's playoffs and grand finals, which were all hosted by UH Mānoa.
Nguyen says while he has helped propel the esports program into the national spotlight, he still has a lot more he wants to get done.
"In the collegiate esports program, I want to create a pathway for students to get jobs," Nguyen said. "We're slowly getting there—one student got to work at Riot Games (a top esports publishing company) and another got to Valve (a major video game developer)—but I want to continue doing that. All this does is make me want to work harder. Although I got this award, I want to really prove it."
Related UH News stories:
Austin Yoshino
Yoshino, 23, is the CEO and co-founder of Shaka Sports, a company creating an app for desktop and mobile devices for high school and youth athletes to have their games broadcast live via streaming video. The mechanical engineering graduate tells PBN that he played baseball at ​​ʻAiea High School and wants future athletes at his alma mater to have better opportunities to be seen by college recruiters.
Yoshino also made headlines during his undergraduate career at UH Mānoa for a company he founded called Manaola Innovations, Inc. Inspired by his younger brother, Brandt, who has cerebral palsy, the company developed medical technology products including a technologically enhanced walking assistant device. Yoshino won several awards from the Pacific Asian Center for Entrepreneurship (PACE), and top honors in the Entrepreneurs' Organization Hawaiʻi Global Student Entrepreneur Award competition.
Related UH News stories:
Lauren Pierce and Spencer VanDerKamp
Pierce and VanDerKamp, both 23, launched ReelFresh, a mobile app that connects small-scale fishermen directly to consumers. Its goal is to support Hawaiʻi fishermen while increasing consumer access to fresh, local seafood.
The pair came up with the idea and received a major funding boost as UH Mānoa students—Pierce majored in economics and VanDerKamp studied management information systems. They fished and sold their catch as a way to earn extra money while attending school. They sold directly to friends, but as their network spread and became more challenging to manage, they came up with the idea of a mobile app.
In 2020, they won third place in the UH Venture Competition hosted by PACE. The prize included a $2,500 cash award, and more than $8,000 in legal, marketing, design and startup support services. The next year, they were accepted into PACE's Liftoff Advisors program, and received $10,000 to advance their venture, along with startup guidance from hand-selected advisors.
Related UH News stories:
This recognition serves as an example of UH Mānoa's goals of Enhancing Student Success (PDF) and Excellence in Research: Advancing the Research and Creative Work Enterprise (PDF), two of four goals identified in the 2015–25 Strategic Plan (PDF), updated in December 2020.