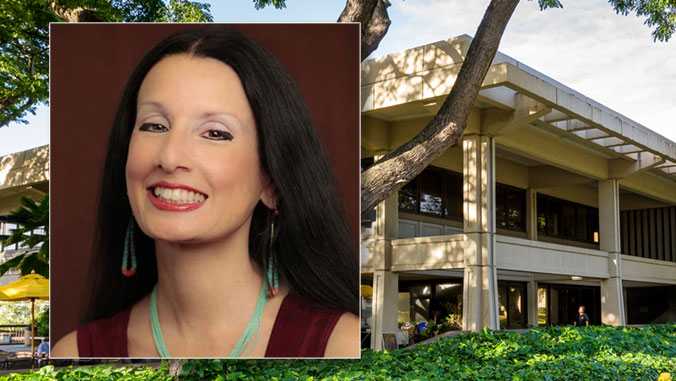 As a scholar of Indigenous Peoples' rights and environmental law, Professor Rebecca Tsosie has been selected as an endowed chair at the University of Hawaiʻi at Mānoa. Tsosie will headline a live presentation "Rethinking Reconciliation: Toward a Land-Based Indigenous Citizenship" on October 28, at 12 p.m.
Tsosie was selected to serve as the Dan and Maggie Inouye Distinguished Chair in Democratic Ideals for fall 2021. She will be in virtual residence for the semester, participating in a variety of events with students, faculty and community leaders. The chair is hosted in the UH Mānoa Department of American Studies in the College of Arts Languages & Letters and the William S. Richardson School of Law and was created to bring significant public figures to Hawaiʻi to foster public discourse regarding democratic ideals and civic engagement.
Tsosie is a regents professor at the James E. Rogers College of Law at the University of Arizona. She previously directed the Indian Legal Program at Arizona State University and is credited with establishing a nationally recognized center known not just for its educational leadership but also its direct service to tribal governments. Tsosie, who is of Yaqui descent, also serves as a justice for the Fort McDowell Yavapai Nation Supreme Court and as a judge on the San Carlos Tribal Court of Appeals.
As the author of a leading federal Indian law casebook and more than 50 articles and book chapters, Tsosie has written influential scholarship on topics such as cultural sovereignty, Indigenous self-determination and biodiversity.
"Rebecca Tsosie is a trailblazer who transformed the field of federal Indian law. Her thoughtful exploration of the intersection between Indigenous rights and environmental justice will be especially valuable to the conversations happening now in our community. She is also a devoted teacher who will be an inspiration to our students," said UH Law School Dean Camille Nelson.
This event is an example of UH Mānoa's goal of Enhancing Student Success (PDF), one of four goals identified in the 2015–25 Strategic Plan (PDF), updated in December 2020.