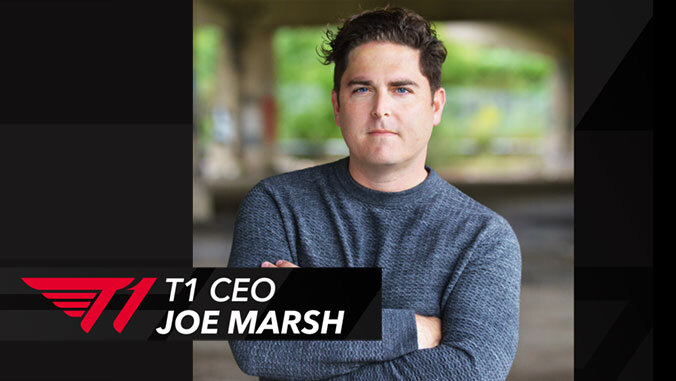 A global leader in the skyrocketing esports industry shared his wealth of knowledge with University of Hawaiʻi at Mānoa students. Joe Marsh, CEO of T1 Entertainment & Sports in South Korea, spoke virtually to more than 30 students in the esports and society course (COM 369) in the School of Communications on October 4.
T1 Entertainment & Sports owns and operates a successful League of Legends team, along with other teams in competitive gaming segments that include Fortnite, Dota 2, PUBG, Super Smash Bros., Hearthstone and Apex Legends. Marsh spoke about several topics with the students, including his work as CEO of T1 that is looking to expand into North America, and how attractive Hawaiʻi is to host future global esports tournaments. This comes after UH Mānoa became the first higher education institution to host four Overwatch League (OWL) summer tournaments, and OWL's playoffs and grand finals.
Nyle Sky Kauweloa, a communication and information sciences PhD student, head of the UH Mānoa Esports Task Force in the College of Social Sciences and instructor of the course, said Marsh initially reached out to him on LinkedIn after hearing about UH Mānoa's partnership with OWL.
"We continue to ride the momentum that the OWL events gave us over the summer. With the Joe Marsh guest speaking appearance, it continues to show how relevant the university has become in offering these once-in-a-lifetime opportunities to engage with the esports industry," Kauweloa said. "While Joe was slated to speak for an hour, the students started their questions about 30 minutes into his presentation, and Q&A lasted for the rest of the [75 minute] class."
Marsh said, "It was a pleasure to speak with the University of Hawaiʻi students about esports and the gaming industry at large. Hawaiʻi is uniquely positioned in a post-COVID world to become a destination for live gaming events and the University of Hawaiʻi is leading the charge locally."
Student impact
Some of Kauweloa's COM 369 students played a major role in supporting the OWL events. Others, however, are relatively new to the esports scene.
"Joe Marsh is an insightful and inspirational person to speak to. He spoke to us on a variety of topics, but what stood out to me was his take on empowerment of staff and players. My future goals in esports have a lot to do with empowerment, so his methods and view on it are thoughtful," Erika Holt said.
Lana Kawauchi added, "The thought of meeting a big CEO seemed a little intense to me at first but he was honestly a very down to earth and relatable person. Not only did I get a glimpse of what it's like to manage an esports team, but I also got to see the care and dedication Joe puts into personally making relationships with the players and keeping everyone happy."
More stories on UH's esports program.
This work is an example of UH Mānoa's goals of Excellence in Research: Advancing the Research and Creative Work Enterprise (PDF) and Enhancing Student Success (PDF), two of four goals identified in the 2015–25 Strategic Plan (PDF), updated in December 2020.
—By Marc Arakaki