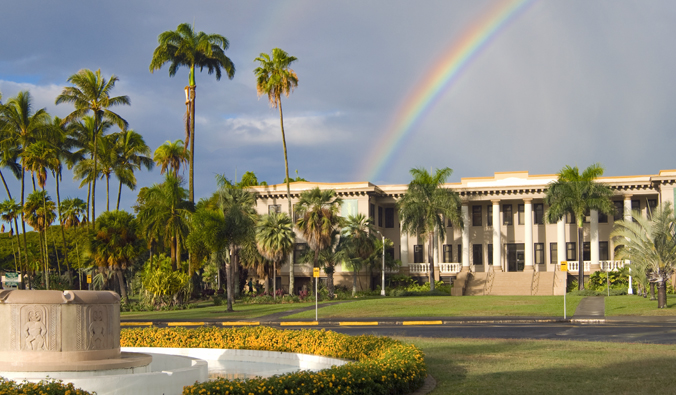 Encouraging students to explore and challenge the histories of sexuality and gender across multiple political and cultural contexts is the focus of a new undergraduate certificate in queer studies at the University of Hawaiʻi at Mānoa. Offered for the first time in fall 2021 through the Department of Women, Gender and Sexuality Studies (WGSS), the certificate program is one of a few that centers on gender and sexuality issues in the Asia-Pacific region, with courses covering various disciplines.
Responding to student interests
In 2019, 73% of WGSS students surveyed indicated they were interested in a queer studies undergraduate certificate program. Core courses were introduced in fall 2020, and the program enrolled its first students this semester.
"More than anything, we wanted to respond to our students' needs, we wanted them to feel seen in this curriculum and we wanted to help prepare them for their future careers," said WGSS Associate Professor and Chair Lani Teves.
The 15-credit program helps prepare students for a number of fields, such as health, media, business, law, social services, education, and to work toward building a more equitable future for all people. It examines sexuality with a focus on Hawaiʻi, Asia and the Pacific from a transnational, interdisciplinary and intersectional perspective.
"Students especially expressed an interest in courses that pertain to Kanaka Maoli, Oceanic and Indigenous Pacific sexualities and gender expressions in 'traditional' and contemporary cultural contexts," added Teves. "We felt this would set the certificate program apart from any other in the world, as it would help UH 'come out' as a leader in queer studies in the entire Pacific. We already have so many scholars and students here who contribute to queer theory!"
Kiyomi Sanders is one of the first students to enroll in the certificate program this semester. A junior in physics, she said she wants to be an LGBTQ+ advocate regardless of her career or life path.
"In many fields, including physics, there is a dire need for more diversity and representation: more openly queer folks, disabled folks, gender minorities and people of color. I love that my WGSS classes so far have emphasized the importance of intersectionality and introduced me to Native Hawaiian and Indigenous feminisms," Sanders said.
For more information or to sign up for the undergraduate certificate program, visit the website or email undergraduate advisor Kathy Ferguson.
An information session for interested students will also be held during an upcoming LGBTQ+ coffee hour, November 3, 4–5 p.m. via Zoom (Meeting ID: 8085666795, Password: LGBTQ).
This certificate program is an example of UH Mānoa's goal of Enhancing Student Success (PDF), one of four goals identified in the 2015–25 Strategic Plan (PDF), updated in December 2020.