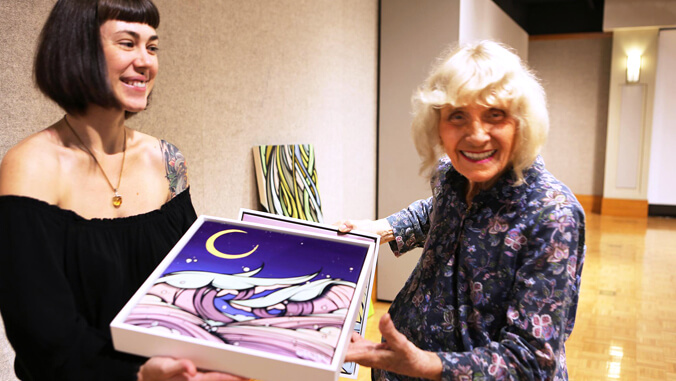 This fall, HomeGrown, a new exhibition opening on October 22, will feature 30 of the most notable Hawaiʻi-based artists at Gallery ʻIolani at Windward Community College. Some of the exhibit's artists are part of a global network of mural and installation artists and recently participated in the Pow!Wow! Hawaiʻi festival in Kakaʻako.
"The dynamics of the HomeGrown artists usher in a new exciting movement showing works of fantasy, color, bold and bright images not seen in such abundance during the past few decades," said Gallery Director Toni Martin.
HomeGrown
October 22–December 10, 2021
Artist Reception: Friday, October 29, 4–7 p.m. (pending COVID-19 restrictions)
Open Monday–Friday, 1–5 p.m. (except holidays on Nov. 11, 25, 26)
Martin titled the exhibition HomeGrown to celebrate the coming together of exciting local artists. Among the Windward CC alumni featured are Shar Tuiasoa (Punky Aloha) and Colin Ota.
Homecoming
The gallery also serves as a classroom for students studying gallery design and management at Windward CC.
Three years ago, when Martin invited Windward CC alumna Bethany Georges to collaborate on a new fall 2021 exhibition at the college, Georges felt like she had come full circle, a sort of homecoming.
As a student, Georges took every art class possible at Windward CC, from color theory to sculpture, printmaking and 2D design, and figure drawing and painting, to gallery design and management—some up to three times each.
"Taking Toni's Gallery Management and Design course really familiarized me with the gallery and being in this role, and honestly taking Toni's other classes has really changed my life! The knowledge learned from her classes were so fundamental, that nearly everything I look at, I see through the lens of those core design principles," said Georges.
Georges' experiences led her to a career of art commissions, gallery showings and large-scale murals at venues such as Pow!Wow! Hawaiʻi.
Martin invited Georges to curate HomeGrown by seeking out young contemporary local artists and bringing them to the Windward side of O'ahu.
"I realized this is the perfect time to mentor her with exhibit planning and management by offering her the role of curating these artists, which can prepare her for a future role in gallery management," said Martin.
Georges added, "We hope to inspire people to embrace their inner creative, to see that it is possible to follow your passion and pursue a career in art, and to see that there are many different types of journeys that unfold in the process."
Gallery ʻIolani is located adjacent to Palikū Theatre in the Hale Pālanakila complex. For more information about the gallery and/or opportunity to study visual arts and gallery design, contact Martin at (808) 236-9155, or go to the gallery website.