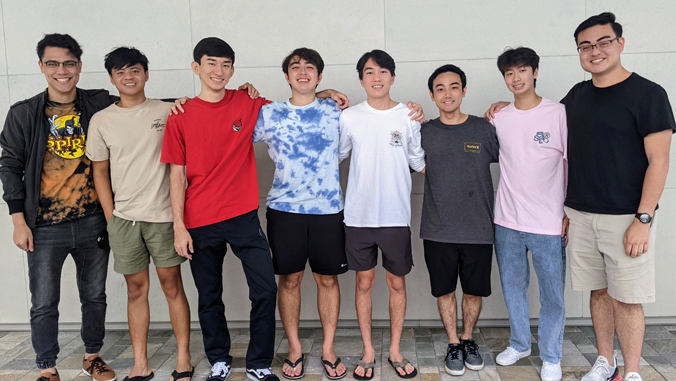 University of Hawaiʻi at Mānoa esports won its first collegiate tournament in program history capturing the Collegiate Valorant Fall Brawl and the $2,500 top prize. The team went undefeated in bracket play, taking down nine schools including the University of Arizona, Texas A&M University and Canada's Carleton University in the finals. The best of three, single elimination tournament took place virtually from September 19–October 10.
Valorant is a multiplayer first-person shooting game, and players are assigned to either the attacking or defending teams. It is part of the skyrocketing esports industry, with revenue projected to hit $1.08 billion in 2021. UH Mānoa esports, which began in 2019, is making a national statement in Valorant. The team ended spring 2021 as one of the top three collegiate teams in the nation and started the fall semester on a high note taking the top spot in one of the season's first tournaments.
"We wanted to win the whole tournament to prove that there is talent in Hawaiʻi. We also wanted to win the tournament for UH esports and ourselves because we were dedicated to winning the tournament and we knew that we had the skills to do it," said Manalu Nakanishi, Valorant team member and UH Mānoa computer science senior. "It was an amazing and surreal experience, and I felt like our team was unstoppable. I felt immediate gratification for all the hard work we put into the team when we won the tournament."
Luke Miyamoto, another team member and UH Mānoa business sophomore, added, "We were really confident in our ability to win and it felt really good to know all our hard work and time we put in was worth it. Winning made us want to compete and win even more and show that we are the best collegiate Valorant team."
Up next
The Valorant team is in the midst of its next tournament, the Conference One 2021 Fall Valorant tournament. It is currently in group stages, with the top two teams from each group making the playoffs.
Miyamoto attributes the team's recent success to having a positive attitude.
"We are very mentally strong during matches and even if we start losing nobody gets mad or has a negative attitude. Since everyone has a positive mindset, we are able to perform our best throughout each series," Miyamoto said.
Vote for UH esports
Voting continues to help UH Mānoa's esports program become the best in the nation. UH Mānoa was nominated by its peers across the country as one of 10 finalists for the best collegiate program award, and the public can vote for UH Mānoa on the Esports Awards website until November 10 to help UH Mānoa earn the No. 1 spot. The winner will be determined by an esports panel of experts (75%) and public vote (25%). It will be announced on November 20.
Visit the UH esports team's Twitter and Discord pages. Read more stories on UH's esports program.
This program is an example of UH Mānoa's goal of Enhancing Student Success (PDF), one of four goals identified in the 2015–25 Strategic Plan (PDF), updated in December 2020.
—By Marc Arakaki