Former National Women's Soccer League (NWSL) players including Meleana Shim, a third-year law student at the University of Hawaiʻi at Mānoa William S. Richardson School of Law, came forward with allegations of sexual harassment and abuse against their former coach Paul Riley, alleging institutional failure. Riley was Shim's coach for two seasons in Portland 2014–15.
Shim's story has become part of a catalyst for institutional change, including the NWSL adopting anti-harassment policies in April 2021. Riley was fired as head coach of the North Carolina Courage soccer team after Shim shared her story publicly with the news outlet The Athletic this fall and her story continues to spark national outcry for better protection of women in sports.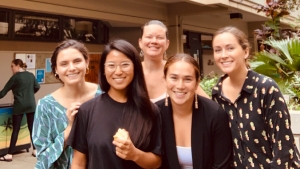 "I want a few things—first, prioritize the players and elevate their voices," said Shim. "When players tell you something is wrong, listen to them and protect them. It's simple. Next, I want more robust policies."
After six seasons in the NWSL, five in Portland and one in Houston, Shim last played for the league in 2019 before starting at UH law school.
Sparking passion for policy, justice
Shim's experiences in professional soccer spurred her to pursue her law degree. She also credits UH Mānoa law professor Mari Matsuda as an instrumental player in influencing her decision to come forward and share her story. Law school has helped spark Shim's passion for policy work around high school and college sports, and addressing the culture of sexual harassment and abuse. One of the main reasons she decided to go public with her story was hearing about other players with similar experiences.
"It infuriated me that Riley was still coaching in the league," said Shim. "Another element that I wanted to shed light on was how the system failed me when I did the right thing and reported him in 2015. I knew things needed to change and in order to do it, we had to break the silence."
For more than a year, Shim worked with a team of two players (Alex Morgan and Sinead Farrelly), attorneys and a strategic communications team, to draft the current policy. They met voluntarily, independent of the NWSL, for months and brainstormed the best way to address this systemic problem.
"I am relieved Paul Riley is no longer coaching in the league. I am optimistic about the future of women's professional soccer in this country," said Shim. "I am very aware and concerned about the scale of this problem. I have heard from numerous women who have similar stories to ours and it's heartbreaking and infuriating that we just accept this as part of the culture. We have a lot of work to do and I hope sharing my story helps bring about real change."
The UH law school issued a statement of support for Shim saying, "It is through the courage and steadfastness of people like Meleana (Mana) Shim who, through their courage and fortitude, expose these abuses by coming forward and speaking out—they make the world a better place through their words, deeds and actions. Mana's leadership in athletics, on and off the field, is exemplary and is forging a better, and safer, path for all athletes, especially, women in soccer. We join so many people in the sporting world and beyond in recognizing her bravery and leadership."
For the full statement, see the UH law school website.
Future investigations
Finally, there are a few investigations pending and Shim wants transparency around the findings. Knowing how and where things went wrong is critical to fix the systemic problem, and it is an important step in rebuilding trust within the league. Shim believes everyone involved in the NWSL needs to acknowledge this problem and take part in fixing it, which can only be done through education and open dialogue.
"To every person and player who has experienced sexual violence—you are not alone," added Shim. "It sounds really cliché, but too often players think they are the only one and it is somehow their fault. We know that perpetrators have patterns and there are more of us than we think. Also, be brave and let go of the shame, because this is not your fault. Being brave can mean asking for help or standing up to someone. Finally, reach out to someone you trust. We have your back."