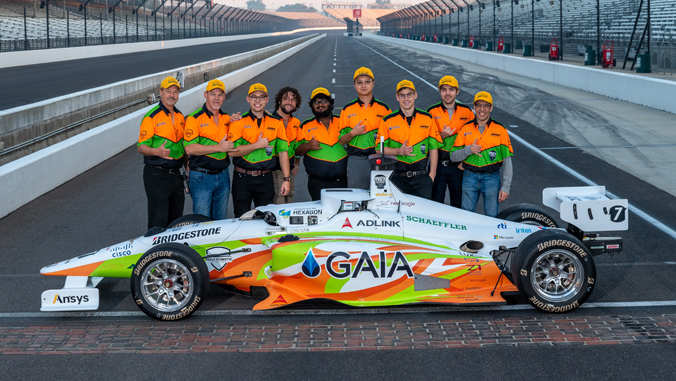 The University of Hawaiʻi is revving its engines in the international spotlight competing against the world's best in autonomous auto racing. The Indy Autonomous Challenge competition—the first ever autonomous race car event—at the Indianapolis Motor Speedway on Saturday, October 23, is just like any other car racing competition, minus the need for anyone behind the wheel. In autonomous car racing, the driver in each car is replaced with a variety of sensors that act as the eyes and ears of the vehicle, and a powerful computer to perform the many path planning, tactical and strategic decisions needed to provide the maximum performance from the vehicle.
The system is an example of artificial intelligence, which requires engineers to create algorithms to program the car to generate human-like behaviors and interpret complex sensor data. UH is one of 10 international and U.S.-based teams competing, which include the Massachusetts Institute of Technology, Korea Advanced Institute of Science and Technology and Auburn University.
The race is 20 laps with a goal of crossing the finish line in 25 minutes or less, which requires an average speed of 120 miles per hour. The first place team will win $1 million, second takes home $250,000 and third place will earn $50,000. The race will be live streamed on the Indy Autonomous Challenge website and on Twitch @IndyAChallenge. Coverage begins at 7 a.m. (HST) with the race getting underway at 7:30 a.m. UH qualified for the race through an extensive process including a test run of its software in an advanced simulator system against other teams in May 2021.
"First of all, we're just excited and elated to be here and represent the University of Hawaiʻi, and to expand the field of autonomous vehicle work at UH," said team-lead Gary Passon.
Born out of the classroom
UH's team, UH AI Racing Tech, was established through a UH Maui College course in spring 2020 on autonomous vehicle technology. Passon, the course's instructor, teamed up with UH Mānoa's College of Engineering to provide additional expertise and give students a hands-on learning experience.
"There is so much energy and focus in bringing 'autonomous everything' to everyday life. It's an amazing opportunity for the students to really be involved in the creation of the actual code and the huge amount of engineering work that makes these vehicles happen. To do autonomous vehicles, you need mechanical engineering, aero engineering, electrical engineering, computer science and a significant amount of human factors input—it's just a wonderful opportunity to bring people in from many diverse engineering disciplines," Passon said.
Hands-on learning experience
UH Mānoa mechanical engineering junior Lillian Shibata worked on the car's hardware, which included assembling and installing the car's sensor packages on a lab vehicle.
"I've been very lucky and blessed with this opportunity since I am able to apply the things I have been learning in my classes and many things that my mentors have taught me throughout this whole experience to this project, which is really cool," Shibata said.
Future of autonomous vehicles
One of the primary objectives of autonomous car racing is the emphasis on safety. It is something Passon said, "If the decisions and maneuvers to safely operate can be done at speeds of up to 200 miles per hour, it will make traveling on regular roadways a lot easier."
"The most important principle—whether it's racing autonomously or building autonomous cars for the street, or increasing the autonomy of airplanes or boats or any complete machine/robot—is safety," Passon said. "So for us, it's 'How do we encompass those important principles of safe operation? But do it at lightning-quick speeds that we need to do for autonomous racing.' By being able to prove the methods in autonomous racing is going to make autonomous everyday street cars safer."
UH Maui College Assistant Professors Elisabeth Dubuit and Mark Hoffman, UH Mānoa Assistant Professor Zhuoyuan Song, former UH Mānoa research scientist Chris Battista, spring 2021 mechanical engineering alumnus Daryll Suyat, Shibata, and partners from the private sector, as well as experts and students from the University of California, Berkeley and the University of California, San Diego, have all played a major role on the team.
Battista will be in Indianapolis on race day and his role on the team was to guide students in developing the software instructions that allow the car to see and sense its environment.
"This is crucial for race day, because in order to dodge obstacles, stay on the track, and ultimately race against other cars, UH's car must know where it is, and what is around it," Battista said. "Our goals are to test the limits of computer vision and remote sensing at high speed, while representing UH well in this international competition."
The UH AI Racing Tech team is supported by several local and other industry corporations, including Maui Robotic Vehicle Association, St. Anthony School STEM program, VectorAero LLC, New Eagle LLC, ADLINK, Luxonis, PointOneNav, Emlid, RockWestComposites and others.
Follow updates on the UH AI Racing Tech's Twitter page.
This work is an example of UH Mānoa's goals of Enhancing Student Success (PDF) and Excellence in Research: Advancing the Research and Creative Work Enterprise (PDF), two of four goals identified in the 2015–25 Strategic Plan (PDF), updated in December 2020.
—By Marc Arakaki