The University of Hawaiʻi at Mānoa football team defeated New Mexico State University for the second time this season after a 48-34 shootout on October 23 at the Clarence T.C. Ching Athletics Complex. The Rainbow Warriors improved to 4-4 on the season.
It was a special evening for Warriors who hosted fans at a home game for the first time since 2019, while also retiring the jersey of the late Colt Brennan during a halftime ceremony with the Brennan family in attendance. Brennan, who wore No. 15 during a storied three-year career (2005–07), is only the second retired number in program history.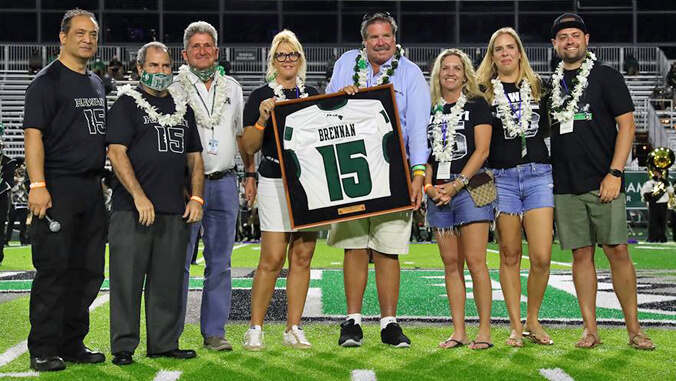 On the field, it was an entertaining, back-and-forth affair before UH ultimately pulled away. The teams combined for 82 points and 967 yards of offense including five scoring plays of 46-yards or more.
UH got a pair of scores from its defense in the form of two momentous interception returns for touchdowns. Khoury Bethley's 79-yard touchdown gave the Warriors a 17-3 lead early in the second quarter while Darius Muasau's 75-yard pick six put UH up by two scores early in the fourth. For the second time this season, Bethley was named the Mountain West Defensive Player of the Week.
The Warriors return to Mountain West action when they head for the road and a meeting with Utah State on Saturday, October 30. Kickoff is at 1 p.m. MT/9 a.m. HST.
For more on the game go to the Mānoa athletics website.