Japanese atomic bomb survivors and American Pearl Harbor survivors come face to face in a new documentary by a former Leeward Community College student. Local writer and director, G. "Kamana" Hunter's revealing documentary, Sakura & Pearls: Healing from World War II, is scheduled to premiere nationally on New Mexico PBS on October 28 (7 p.m. MDT/3 p.m. HST), and will stream via the PBS video app.
The documentary offers rare, uncensored testimony and dialogue between former enemies who still bear physical and emotional wounds decades after the war. Hunter arranged this meeting at the Pearl Harbor Visitor Center on Oʻahu as part of the process of remembrance, healing and forgiveness. Everett Hyland, a Pearl Harbor Visitor Center educator and Pearl Harbor survivor featured in the film passed away six weeks after the meeting, which made his interview his last testament to the world.
Hunter's inspiration for Sakura & Pearls: Healing from World War II, which he wrote and directed, came from historic meetings during memorial services in 2016 between former U.S. President Barack Obama and former Japanese Prime Minister Shinzo Abe to commemorate World War II. He was also inspired during his first trip to Japan in 2017 where he was able to visit the Hiroshima Memorial Peace Park and meet his first hibakusha (atomic bomb survivor), Okihiro Terao.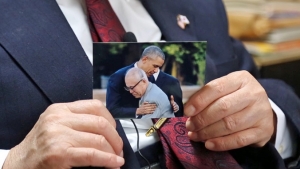 "Terao-san agreed to let me film an interview when I came back to Japan. There was only one problem. I knew almost nothing about capturing video," Hunter said.
This led him to enroll in a Digital Media Certificate program at Leeward CC. Among his classes were Film Analysis & Storytelling (DMED 150) and Introduction to Digital Video (DMED 131), where he developed foundational knowledge and skills that prepared him to put together a feature length documentary.
Assistant Professor Irwin Yamamoto, was the first teacher Hunter told about his dream to bring together Japanese atomic bomb survivors and U.S. Pearl Harbor survivors.
"Kamana was a unique individual who was driven to spread his message of peace, hope and healing," Yamamoto said.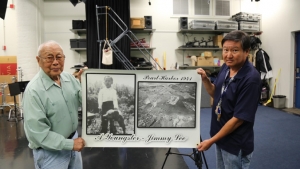 As an instrumental part of Hunter's filmmaking journey, providing guidance and support over the years, Yamamoto also introduced him to Pearl Harbor survivor Jimmy Lee, who became one of four central elders featured in the documentary (Lee passed away months after filming the documentary).
"I'm particularly grateful to Irwin who even helped me choose the right camera for the film. He's an amazing professor and we're lucky to have him at Leeward CC," said Hunter.
More information about how to watch Sakura & Pearls: Healing from World War II is available on Hunter's website. Upcoming appearances and projects include a talk for the University of Hawaiʻi Matsunaga Institute about Sakura & Pearls: Healing from World War II on November 11 (Veterans Day), a talk for Pacific Historic Parks called "Their Legacy Lives On" (stories from Jimmy Lee and Everett Hyland), and a short documentary called Searching for Toshi that is about Jimmy Lee searching for his childhood friend Toshi after the Pearl Harbor attack.
Learn more about Leeward CC's Digital Media Program.