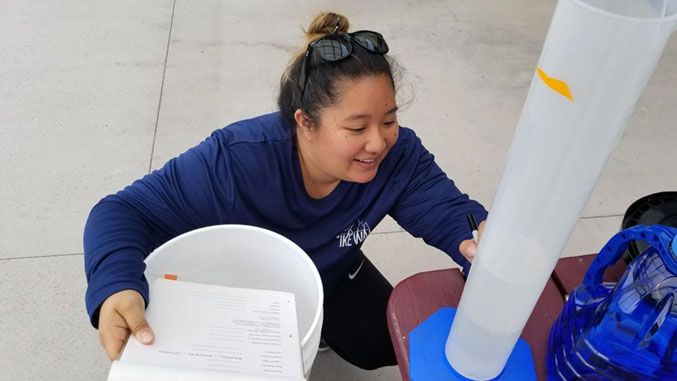 A University of Hawaiʻi at Mānoa graduate student outlines a powerful approach to increase equity and inclusion of Indigenous knowledge and communities in science—reframing funding strategies. Born and raised on Oʻahu, Diamond Tachera's insights have been gained during her academic and personal journey as a kanaka (Native Hawaiian) scientist in the geosciences and her findings were recently published in Eos.
"In general, today's Western scientific establishment devalues work done by Indigenous community members who assist academic researchers and relationships built by Indigenous scientists with local communities," said Tachera, who is an Earth Sciences doctoral student in the UH Mānoa School of Ocean and Earth Science and Technology (SOEST). "Together with other extractive behaviors, this devaluation erodes trust among Indigenous Peoples toward Western scientific traditions."
Supporting broad scale change
UH Mānoa science faculty and students are engaged in a variety of grassroots efforts to improve representation and reciprocity in science research and education, such as UH cohorts' participation in Unlearning Racism in Geoscience and a newly developed curriculum, Kūlana Noiʻi that outlines best practices and guiding questions regarding respect, reciprocity, self-awareness, community engagement, knowledge ownership and access and accountability.
However, if change is to happen at a larger scale in the sciences, Tachera suggests systemic revisions are required.
"Changing funding structures is one powerful way to develop reciprocity and respect and repair relationships," said Tachera. "I call for changes in research funding systems so they value equitable relationships with communities; acknowledge, in the grant process, the kuleana (responsibility, privilege) and timelines required to build relationships and pursue research and broader impacts in Indigenous communities; and enforce accountability from the highest levels within academics to encourage best practices as common practices in research."
Respecting needs, contributions of communities
Many funding agencies require scientists to include activities that broaden the impact of their research. Often, these broader impacts involve sharing findings with community members. Tachera suggests these efforts should consider community practices and more effectively meet the needs of community members.
"Our academic and funding systems have a real opportunity to improve," said Tachera. "By shifting their structure, they can better value relationship building and broader impacts on communities by ensuring that funding timelines realistically reflect the needs of the relationship-building process and provide support for Indigenous communities who provide unpaid labor to the scientific community."
Without this accountability, Tachera cautions, scientists will build animosity and mistrust, rather than the equitable relationships that are necessary for effective and ethical work with communities.
This effort is an example of UH Mānoa's goal of Becoming a Native Hawaiian Place of Learning (PDF), Excellence in Research: Advancing the Research and Creative Work Enterprise (PDF) and Enhancing Student Success (PDF), three of four goals identified in the 2015–25 Strategic Plan (PDF), updated in December 2020.
For more information, see SOEST's website.
–By Marcie Grabowski