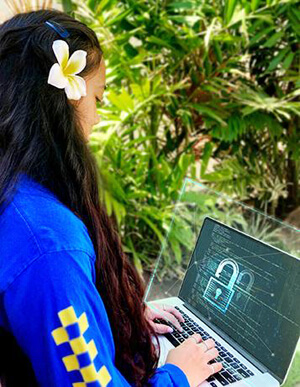 An almost $1.5-million, five-year grant is expanding computer science opportunities for qualified Windward Community College students to obtain recognized postsecondary credentials and hands-on learning in their pursuit of computer science or cybersecurity careers.
Beginning in spring 2022, Windward CC's ʻAo Kahi project will provide scholarships and other support for Native Hawaiian students who register for computer science classes, or who commit to attain the Certificate of Competence in Information Security, provided they also participate in required project activities (such as feedback and career readiness training). ʻAo Kahi is a Native Hawaiian Career and Technical Education project sponsored by ALU LIKE, Inc. and funded through the U.S. Department of Education.
"The ʻAo Kahi project is a great option for Native Hawaiian students interested in any major, since computer skills are valuable personally and professionally," said Jodie Yim, ʻAo Kahi project coordinator.
Over the next five years, the ʻAo Kahi project will provide:
Computer science students: textbooks and digital access to learning platforms, career readiness support, a 40-hour paid internship and professional development.
Cybersecurity students: tuition to complete the Certificate of Competence in Information Security. The 12-credit certificate includes classes in networking, computer security, ethical hacking and computer forensics.
Salaries for computer specialists with a Certificate of Competence, Information Security, Network+ or Security+ professional certifications range from $34,000 to $100,000. Two- and four-year computer science degree holders can earn between $55,000 and up to $170,000, according to Hawaii Career Explorer.
"We encourage students to follow their passion with a career pathway, leading to a certificate and/or degree, and ultimately employment in high-skill, high-wage and in-demand computer industry jobs," Yim said.
For more information, email Yim at wccCyber@hawaii.edu.