A world-class innovation and entrepreneurship center being built on the site of the former Atherton YMCA will receive $500,000 in support. Hawaiian Electric Industries (HEI) and American Savings Bank (ASB) have each committed a $250,000 gift to the University of Hawaiʻi Foundation for the live-learn-work community at RISE—Residences for Innovative Student Entrepreneurs, which will be operated by the Pacific Asian Center for Entrepreneurship (PACE) at UH Mānoa's Shidler College of Business.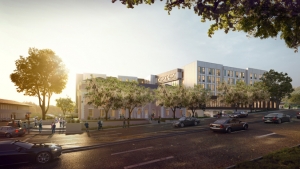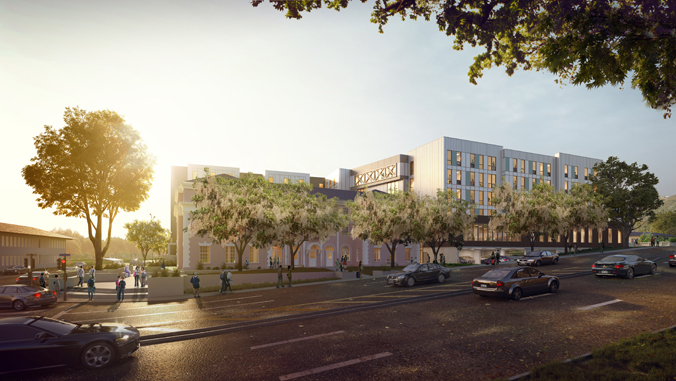 "We are delighted to have the support of Hawaiian Electric Industries and American Savings Bank in our community because a large component of the success of RISE depends on private and community partnership," Shidler College Dean Vance Roley said. "RISE will be accessible to all UH student entrepreneurs to develop themselves within an ecosystem of interdisciplinary collaboration and experiential learning. This type of private investment will stimulate long-term innovation and economic diversity in Hawaiʻi."
The facility's main entry will be named for Hawaiian Electric Industries, while a rooftop deck will be named for American Savings Bank.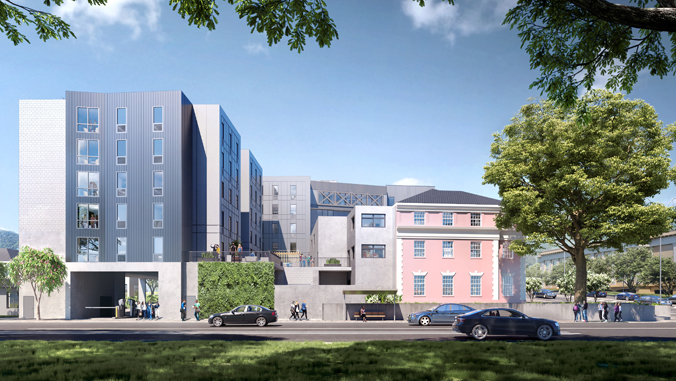 "HEI is thrilled to continue our ongoing partnership with PACE and the University of Hawaiʻi," said Connie Lau, HEI president and CEO. "RISE will be home to Hawaiʻi's next generation of innovators and entrepreneurs. These future leaders are the catalysts that will help us build a better Hawaiʻi."
"American Savings Bank is proud to support PACE's efforts to cultivate and prepare students for careers in research, innovation and entrepreneurship—areas that are key to diversifying Hawaiʻi's economy," said Ann Teranishi, ASB president and CEO. "We are excited for this new era for the University of Hawaiʻi and share its commitment to develop our state's future leaders and entrepreneurs."
PACE supporters
HEI and its subsidiaries are longtime supporters of PACE and its programs. ASB in 2014 gave $100,000 to PACE as part of a $3 million fundraising initiative to create new programs and expand existing ones, while HEI, Hawaiian Electric and ASB have supported the UH Venture Competition at PACE with an annual gift each year since 2015.
"We've had a long-standing partnership with Hawaiian Electric Industries and American Savings Bank. Since 2015, they have served as rotating title sponsors of our UH Venture Competition, in addition to volunteering countless hours to serve on our boards, and as judges, instructors and mentors for our various programs. We are incredibly grateful for their continued support of our student entrepreneurs," PACE Executive Director Sandra Fujiyama said. "We are excited to see the RISE project come to fruition as it will be a hub for ideas to grow into diversified solutions that will have a positive impact on our state and residents."
Development of RISE project
Demolition of the existing Mary Atherton Richards House at the corner of University and Seaview avenues began in September and is scheduled to be completed this month. Interior demolition of the historic Charles Atherton House and its additional wings will follow. Groundbreaking on the new six-story modern building, which will wrap behind the historic pink Charles Atherton House, is scheduled for January 2022. When completed in 2023, RISE will have 7,263 square feet of multi-purpose co-working, meeting, lab and classroom space, as well as 374 dormitory beds for undergraduate and graduate students.
The pair of gifts from HEI and ASB are among the largest corporate gifts toward the UH Foundation's goal of raising $3 million to fund the RISE center's furnishings, fixtures and equipment, along with operational programs and student scholarships over the first 10 years.
The $70 million project is being developed by a public-private partnership between UH, Hunt Development Group and UH Foundation, which purchased the one-acre site in 2017 for $8 million. The tax-free bond financing will be repaid using dormitory fees; no taxpayer funds are being used for the project.
Moss is the general contractor on the project, The Wilhelm Group is the construction manager and Design Partners Inc. is the lead architect.
This project is an example of UH Mānoa's goal of Enhancing Student Success (PDF), one of four goals identified in the 2015–25 Strategic Plan (PDF), updated in December 2020.