Doing any job for 50 years takes a lot of dedication, determination and a little bit of luck. You also need to love what you are doing.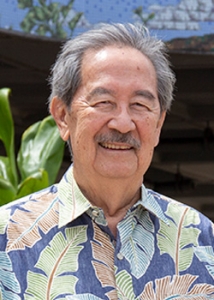 These all came together for Leeward Community College Professor and Counselor Stuart "Stu" Uesato, and he had fun throughout his journey.
Uesato started off wanting to be a dentist but ended up earning a degree in political science from the University of Hawaiʻi at Mānoa in 1965.
When he graduated, he realized that he most enjoyed working with and helping people, which led him to enter a student services counseling program.
"Once I graduated from NYU with my master's degree, there were no jobs in Hawaiʻi so I started my career at a community college in New York," Uesato said.
Coming home
On a summer trip home in 1970, Uesato visited several Oʻahu community colleges (which were just starting up at the time). Leeward CC was about to lose its student activities coordinator, and the provost offered him the job.
However, Uesato could not leave his job in New York on such short notice and had to turn it down. The following year, the position was still vacant so he applied.
"Here I am…50 years later," Uesato said.
It was perfect timing because he and his wife were about to have a child and he "couldnʻt think of raising a child anywhere else (besides Hawaiʻi)."
50 years of change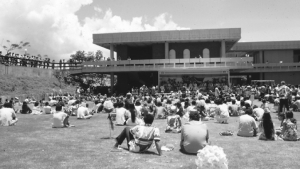 Leeward CC moved from its original location at Pearl City Kai Elementary School to its current location in 1969. When Uesato started there in 1971, there were only a few buildings on the new campus, and things were evolving.
"This place was very innovative and experimental when I first came back, and itʻs retained that feeling of people trying new stuff and moving forward," he said.
Throughout the move and change in jobs, one thing remained constant—his desire to help students. Uesato wants to be remembered as someone who cared and was committed to helping students succeed—to learn, grow, pursue careers and become responsible citizens.
"If they're just here to work and not participate responsibly in our world, I think we might have come up a little short," Uesato said.
"Leeward Community College is proud to have such a dedicated employee serve for over 50 years, and we are grateful for his contributions to the college and to the lives of our students," said Chancellor Carlos Peñaloza.
The next chapter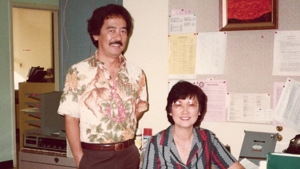 Uesato has fond memories of his more than five decades at Leeward CC.
"This institution has been wonderful because it has allowed me to do a bunch of different things to maintain my interests," he said. "I never considered being any place this long. As it turns out, it's been like four or five occupations over the course of 50 years."
He is starting to think about and plan the next chapter of his life.
"Ending work still allows, hopefully, learning other things," Uesato said. "I want to get back to playing my ukulele, learning Japanese or another foreign language, and golf—get back to golfing."
By Carolynn Yamada and Tad Saiki