Educational specialists from Hawaiʻi's prisons acquired refreshing new techniques and insights after a one-day training session with a Leeward Community College instructor this summer. Like other industries, correctional facilities throughout the state experienced lockdowns and program cancellations due to COVID-19. This was especially challenging for educational staff who had to continue to deliver programs and services for the incarcerated population.
The State of Hawaiʻi Corrections Program Services-Education Branch, in partnership with the Leeward CC's Office of Continuing Education & Workforce Development (OCEWD), provided a day-long training for education specialists, supervisors and select staff from statewide correctional facilities in June.
"Working at a correctional facility can at times be draining," said Halawa Correctional Facility Education Supervisor Roseann Propato. "The 'Train the Trainer' session was helpful in getting to know more about my peers, realizing the value in the work we do, and renewed my sense of purpose."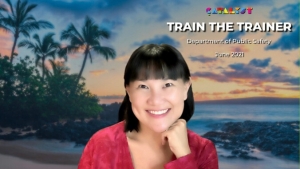 Drawing from 24 years of diverse experience, Leeward CC instructor Loretta Chen created an engaging, activity-filled day that included: "The Power of Perspective," "Design Thinking and Active Empathy", "From Broadway to Boardroom" (team building, singing and skits), and viewing of Chen's short film The Secrets to Happiness (shot entirely in Bhutan, with a heartwarming message of the importance of gratitude and humility synonymous with the espousal of the aloha spirit).
"I enjoyed our all-day training session with Dr. Loretta. She taught me the absolute most important trait when communicating with anyone—empathy. Dr. Loretta's emotional intelligence is impressively beyond reproach," said Francis Taele, education supervisor at the Women's Community Correctional Center.
Chen is now teaching entrepreneurship, customer service and financial literacy courses in Hawaiʻi's correctional facilities. These programs can be designed to suit most organizational needs.
Visit the website or call (808) 455-0477 to learn more about OCEWD's customizable training (for a variety of industries).