From a very young age, Sharayah Chun-Lai adored the thrill of fashion. One of her favorite pastimes as a little girl was playing dress up inside her grandmother's classy closet and trying on shoes. That admiration for apparel led her to pursue a Fashion Design and Merchandising (FDM) degree at the University of Hawaiʻi at Mānoa and launch a modern Hawaiian-inspired clothing and lifestyle retail line, Ola Hou Designs, in 2019.
Just two years after starting her custom online fashion business, the dream phone call of thousands of designers arrived. The voice on the other end came from the Big Apple, and invited the Hawaiʻi Island native to one of the industry's biggest events, New York Fashion Week.
"On October 6, I received a call from Runway 7 Fashion that literally changed my life," Chun-Lai exclaimed. "This has been a dream of mine, and to receive this opportunity to showcase my designs on the runway is still so surreal for me."
The semi-annual New York event showcases fashion collections for international buyers, major media outlets, celebrities and fashionistas. Chun-Lai is the first kānaka ʻōiwi wahine (Native Hawaiian woman) to accept an invitation. She quickly got to work designing and sketching a brand new contemporary line in her Keaʻau living room to showcase in one of the world's biggest fashion events in February 2022. She plans to spotlight 20 "looks" for kāne (men) and wāhine (women) and is working with a team of Hawaiʻi Island seamstresses to complete the one-of-a-kind garments.
"Ola Hou Designs will bring aloha to the world, as each design tells a story to see, wear and represent," Chun-Lai said. "Each print depicts a deeper meaning than what meets the eye. My designs are representations of my family, friends, culture, life and love, intertwined together to create artistic and transportive experiences, and connections with my customers."
Chun-Lai, a Kamehameha Schools Hawaiʻi alumna, sees the golden opportunity in the Big Apple as a springboard for other Hawaiʻi hopefuls, too. From dancers, musicians to models, the 27-year-old plans to feature a wide range of local talent at her fashion show. One of the 19 models set to strut down the New York City runway is UH football player Kilohana Haasenritter, a running back for the Rainbow Warriors.
Crediting UH fashion design program
Chun-Lai admits the pressure to deliver on a grand stage creeps up from time to time. The fashion industry is notorious for its harsh critics and competition. She recalls one of her UH fashion design professors sharing the importance of always being true to yourself and bringing unique designs to the world. It's lessons like those that still strike a chord.
Before entering FDM in the College of Tropical Agriculture and Human Resources, Chun-Lai had no clue how to sew a stitch. Through her undergraduate program, she eventually mastered everything from tailoring to pattern making. The UH alumna hopes more aspiring designers will recognize the valuable opportunities here in the Aloha State.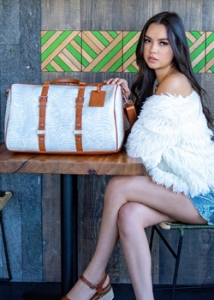 "You don't always have to look elsewhere to study fashion," she explained. "We have a great program here in Hawaiʻi where you learn all aspects of the fashion industry from amazing professors. My experience that I had attending the Fashion Design and Merchandising program helped to steer me into the right direction and I can say that I'm living proof that you can stay home, here in Hawaiʻi, earn a degree and make a career of your very own."
Chun-Lai will take a team of 45 local professionals with her to NYC, and to help cover an estimated $100,000 for airfare, accommodations and expenses to showcase her collection at Sony Hall, the budding entrepreneur is seeking partnerships and sponsorships. For more information go to the Ola Hou Designs website.
When asked what lies at the heart of her passion for fashion, the young designer answered, her 4-year-old daughter Emsley. She's determined to demonstrate to her little girl that anything can be achieved through following your passion, hard work and effort. Young Emsley is set to make an appearance at mom's big show and is busy rehearsing her model strut down Chun-Lai's hallway.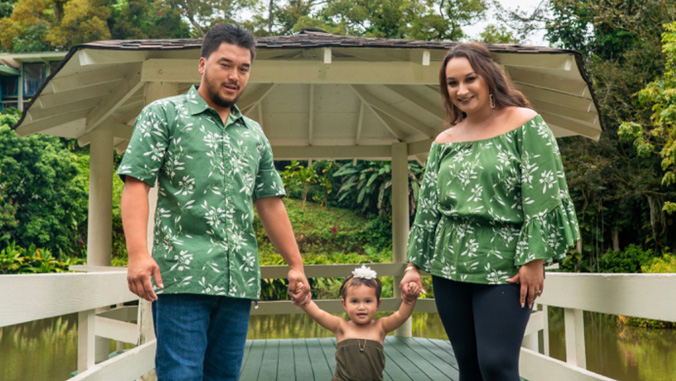 This effort is an example of UH Mānoa's goal of Enhancing Student Success (PDF), one of four goals identified in the 2015–25 Strategic Plan (PDF), updated in December 2020.