A near-Earth asteroid about the size of a Ferris wheel first detected in 2016 by the University of Hawaiʻi Institute for Astronomy (IfA)-operated Panoramic Survey Telescope and Rapid Response System (Pan-STARRS) may shed some light on the early Solar System. New data published in Nature Communications Earth and Environment indicates (469219) Kamoʻoalewa could be a fragment of the Moon.
According to the study, the infrared spectrum of the 165-foot long object appears to match that of material found on the lunar surface. To help determine its origin, China is preparing for a spacecraft launch in 2024 in an attempt to retrieve samples from the asteroid.
"To my knowledge, this is the most promising evidence to date of an asteroid actually being a remnant from a past lunar impact," said IfA Director Doug Simons. "The best way to determine if it is of lunar origin is a sample-and-return mission, so precise chemical analyses can be made to compare material from Kamoʻoalewa with material brought back to earth from past Apollo missions to the surface of the moon."
More than just a name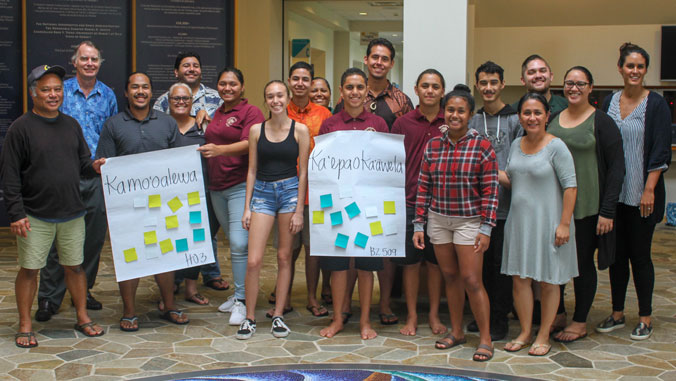 This recent research has topped international and national headlines, such as leading astronomy publications and the New York Times where the asteroid's Hawaiian language name is widely utilized. The use of ʻōlelo Hawaiʻi (Hawaiian language) on such a large scale is both uplifting and encouraging news for UH Hilo ʻImiloa Astronomy Center Executive Director Kaʻiu Kimura who helped spearhead the naming of the Hawaiʻi-discovered Near Earth Object through A Hua He Inoa, a program where Hawaiian speaking students and educators work with Hawaiʻi-based astronomers to create names in ʻōlelo Hawaiʻi for objects discovered by Hawaiʻi-based observatories.
"We were very encouraged to see the recent theory on Kamoʻoalewa. The students who gave the name Kamoʻoalewa put a lot of thought and energy into researching appropriate contexts," Kimura said. "They did in fact consider that this object may have been a 'moʻo' or 'offspring' that is orbiting in our solar system. It is amazing to now see scientific theory support their keen intuition."
In ʻōlelo Hawaiʻi, Kamoʻoalewa alludes to a celestial object that is oscillating, like its path in the sky as viewed from the Earth. It is a name found in the Hawaiian chant Kumulipo.
A Hua He Inoa is also behind the names of five other celestial discoveries, including the headline grabbing interstellar object ʻOumuamua. The program is a collaborative effort between ʻImiloa, IfA, community members and UH Hilo's Ka Haka ʻUla O Keʻelikōlani College of Hawaiian Language.
"As I've mentioned before, by naming major astronomical discoveries made from Hawaiʻi, A Hua He Inoa is helping give Maunakea and Haleakalā an international voice—it is only fitting that voice is Hawaiian," Simons explained.
Kamoʻoalewa is about 4 million times fainter than the faintest star the human eye can see in a dark sky and never gets closer than 9 million miles to Earth.