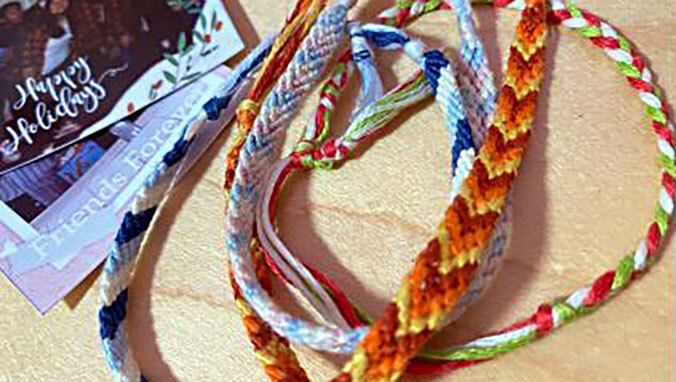 University of Hawaiʻi at Mānoa freshmen in the Shidler College of Business Direct Admit Program are getting hands-on experience in entrepreneurship, and proceeds earned are going towards helping future students in the program.
Instructor Constancio Paranal III teaches a "fundamentals of business" course to students in the Direct Admit Program, which is designed for high achieving incoming freshmen to enter the Shidler college and get a head start on their business curriculum. Part of the fall 2021 semester was focused on two topics: entrepreneurship and corporate social responsibility. Paranal challenged students from the two sections of his course to create and run their own company for a week. He divided them into groups and with a seed money of just $5, which he invested in each of the groups, he challenged them to make "something of it."
"I came in blind with this activity. I wasn't sure what was going to happen, but as always, I value the powers of a creative mind and strong team collaboration. I knew our students could come up with something interesting," Paranal said.
Profitable endeavors
All of the teams came up with interesting businesses, with the majority using their skills and talents, from creating jewelry, to baked goods, to commissioned paintings, another group even provided tutoring services. After a week, students generated $270 in profit (a 675% return on investment), and they donated a portion of their proceeds to the UH Foundation's Direct Admit Program scholarship fund as part of "Giving Tuesday."
"As a class, we agreed we want to support an individual who is passionate about pursuing their education at the Shidler College of Business," Wynter Ramirez said. "We want our hard work to help and inspire future incoming Direct Admit Program students who strive for excellence and success."
Chelsea Tajon added, "What we chose to do with the money was important because as future business men and women, there is always an opportunity to be selfless."
Turning ideas into action
Paranal not only wanted to come up with an activity to motivate students to turn their ideas into action, he also wanted to highlight the importance of collaboration. Since the students had to run the business in a week and under COVID-19 restrictions, they had to consider everyone's circumstances while ensuring operational feasibility.
"The project allowed me to look at entrepreneurship as more than just generating profit but finding a process in which you could maximize your time and your resources to generate as much profit as possible," Tajon said.
"The types of business that will emerge in the future will rest on the youth. I feel it is my job to guide them to see what kind of future they plan to build through their work," Paranal said.
This work is an example of UH Mānoa's goals of Excellence in Research: Advancing the Research and Creative Work Enterprise (PDF) and Enhancing Student Success (PDF), two of four goals identified in the 2015–25 Strategic Plan (PDF), updated in December 2020.