A new educational podcast by a University of Hawaiʻi at Mānoa alumna is not only trending in several countries worldwide, it has also raised more than $14,000 for local charities. "The Communification Podcast" by Malika Dudley is a platform for communication researchers to share their latest findings and teach communication skills.
"Communification" means the "beautification of communication" or the ability to make communicating easier. The development of the podcast kickstarted in fall 2020 as Dudley's final master's in communicology thesis project. She worked with her thesis advisor, Professor Amy Ebesu Hubbard, to make the idea become a reality.
Dudley launched the first season of the podcast in August 2021 with the topic of communication and technology. It features more than a dozen experts and guests, including Ebesu Hubbard, Assistant Professor Soo Yun Shin, and local musicians and content creators Anuhea Jenkins, Kimie Miner and Pashyn Santos. They cover various areas from cyberbullying, to social media and relationships, and digital deception.
"My purpose in coming back to school was to create a project that could combine using my skills as a journalist, and as a communication scholar to help people to lead better lives. I know that I need the help! So I figured others might feel the same way," Dudley said. "The topics discussed in my communicology classes at UH were always so vibrant and relevant. But, a lot of that research and discussion is paywalled in academic journals or only discussed within higher education classrooms. I wanted to provide a resource to the community."
Popular podcast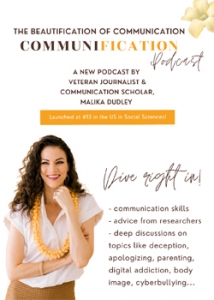 The podcast peaked at No. 13 in the U.S. under the social sciences category (top 1%) on Apple Podcasts, and also reached No. 9 in South Korea, No. 12 in Russia and No. 19 in Japan. It is also highly ranked in Canada, United Kingdom, New Zealand, Australia and Germany.
"I just think the topics are relevant. Life is all about relationships, and relationships are all about communication. There is not one person on the planet that couldn't benefit from learning about the scientific study of human communication," Dudley said.
Ebesu Hubbard added, "Everyone wants to be better communicators. Everyone wants to gain more insight into their communication. However, in the public sphere, there are people who espouse knowledge about communication who are merely speculating and who are sometimes sharing erroneous or outdated information. Malika's podcast is then both timely and needed."
Dudley will release several more episodes for season one, focusing on online dating, relationship maintenance and development online, and loneliness and social media. Season two is scheduled to begin in fall 2022. The theme is yet to be announced, but it will have something to do with relationships.
Listen to the free "The Communification Podcast" on Apple, Spotify, Google and Audible.
Supporting charities
Dudley loves to give back to the community, which is why she came up with the idea of using the podcast to raise money for charity. Businesses or individuals are able to make a charitable contribution and in turn, Dudley will air an advertisement (contributing business' choice) on her podcast. Each $500 donation equals a 15 second ad.
As a Maui Food Bank board member, Dudley encouraged people to donate to the food bank or another charitable organization of their choice. To date, 10 businesses or individuals have made contributions benefiting local organizations, with more than $10,000 going to the Maui Food Bank.
More about Dudley
Dudley earned a MA in communicology, and BA in communicology and French from UH Mānoa. She earned her MA degree in spring 2021 and was selected to represent the graduating class at commencement as the student speaker. She also attended Mississippi State University where she earned her certification in broadcast meteorology. The former Miss Hawaiʻi is an award-winning, Emmy-nominated journalist with 15 years of experience in media. She currently anchors Good Morning Hawaii Weekends on KITV4 Island News.
This work is an example of UH Mānoa's goal of Excellence in Research: Advancing the Research and Creative Work Enterprise (PDF), one of four goals identified in the 2015–25 Strategic Plan (PDF), updated in December 2020.
–By Marc Arakaki