The Island Insurance Foundation has committed $250,000 to the University of Hawaiʻi Foundation in support of the University of Hawaiʻi at Mānoa's RISE project, raising the total of private donations for the project to $1 million.
The live-learn-work community at RISE—Residences for Innovative Student Entrepreneurs—is a world-class innovation and entrepreneurship center coupled with student housing being built on the site of the former Atherton YMCA across from the flagship campus. It will be operated by the Pacific Asian Center for Entrepreneurship (PACE) at UH Mānoa's Shidler College of Business.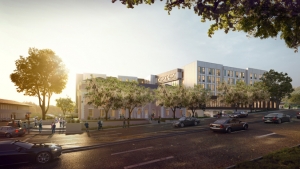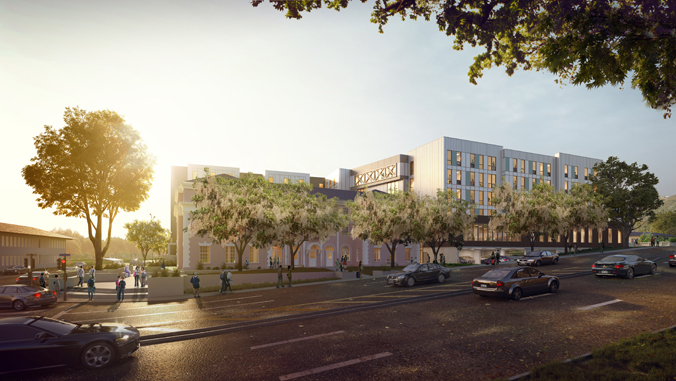 The Island Insurance Foundation is the charitable arm of Island Insurance, Hawaiʻi's only locally-owned property and casualty (P&C) insurer as well as a nationally ranked top 50 P&C insurer. Recognized as one of the top 25 most active Hawaiʻi-based private foundations, the Island Insurance Foundation has been a strong supporter of PACE for many years. Descendants of Island Insurance founder Masayuki Tokioka have served on the centerʻs board, including Island Insurance Chairman Tyler Tokioka, who recently stepped down, and Dana Tokioka, president of Island Insurance Foundation, who joined the board this year.
The foundation also recently made a substantial gift to the UH Cancer Center's Early Phase Clinical Research Center, and supports the UH Economic Research Organization, UH athletics programs and the Family Business Center of Hawaiʻi at PACE. The gift to the RISE project represents, by far, the Island Insurance Foundation's largest gift ever to any program at UH.
"Our donation to the University of Hawaiʻi's RISE program is an investment in Hawaiʻi's future," said Dana Tokioka. "We see it as a progressive project that will help to positively impact Hawaiʻi's economy through support of the student-innovators who will be our leaders moving forward."
Innovation and entrepreneurship
When completed in 2023, RISE will have 7,263 square feet of multi-purpose co-working, meeting, lab and classroom space, as well as 374 dormitory beds for undergraduate and graduate students.
"The rapid changing of the 21st Century workplace is forcing students to be innovative and entrepreneurial," said Susan Yamada, vice chair of the PACE board of directors. "PACE builds these skills through programs focused on problem solving, interdisciplinary teamwork and hands-on experience. We greatly appreciate Island Insurance's long-standing support and generous gift as we expand to serve more students and our community."
Private sector contributions
The gift from Island Insurance is the fourth major gift so far toward the UH Foundation's goal of raising $3 million to fund the RISE center's furnishings, fixtures and equipment along with operational programs and student scholarships over the first 10 years.
"This substantial gift from Island Insurance Foundation brings our total private donations raised to date to approximately $1 million," said Shidler College Dean Vance Roley. "It is encouraging to see the private sector come together in support of this groundbreaking project which allows the university to make a lasting impact for current and future students and entrepreneurs."
Related UH News stories:
More about RISE
The RISE project is being built under a public-private partnership between the UH Foundation, which bought the property on University Avenue in 2017, UH and developer Hunt Development Group. The $70 million construction cost is being funded by tax-exempt bonds, which will be repaid with dorm fees. No taxpayer funds will be used for the project.
Demolition of the existing Mary Atherton Richards House at the corner of University and Seaview avenues was completed in November, while interior demolition of the historic Charles Atherton House is currently underway. Groundbreaking on the new six-story modern building, which will wrap behind the historic pink Charles Atherton House, is scheduled for mid January. Moss is the general contractor on the project, The Wilhelm Group is the construction manager and Design Partners Inc. is the lead architect.
This work is an example of UH Mānoa's goal of Enhancing Student Success (PDF), one of four goals identified in the 2015–25 Strategic Plan (PDF), updated in December 2020.