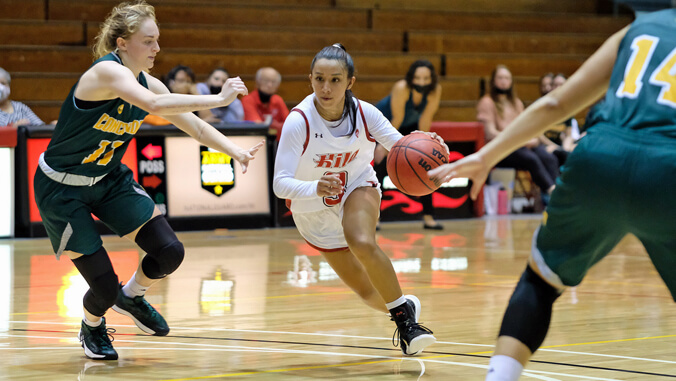 University of Hawaiʻi at Hilo Vulcan basketball players Mandi Kawaha and Aniwaniwa Tait-Jones are the Pepsi Athletes of the week.
Kawaha led her team in scoring on December 3 against Concordia University Irvine (CUI) and on December 6 in the Vulcans epic 78-66 win over Point Loma Nazarene University (PLNU).
Against CUI, Kawaha scored 14 points, shot 6-for-17 in the field, was 2-for-4 in free throws, contributed an assist, picked up four rebounds and made a steal. Kawaha was also a key piece in the Vulcans victory over PLNU. She led the Vulcans' offense with a career-high of 27 points. Kawaha was an impressive 4-for-4 behind the arc, 9-for-15 in the field and 5-for-6 in free throws.
Tait-Jones performed well on offense and defense in the past week's games against CUI and PLNU.
Tait-Jones had a double-double against CUI on December 3 in the Vulcans' conference opener. He posted 10 rebounds and 16 points in the 72-66 loss. He had another solid performance on December 6, helping his team top PLNU, 84-73. He accumulated 15 points and aided his team with five assists. Tait-Jones also led in rebounds, tallying seven, six of which were on the defensive side.
For more on Kawaha and Tait-Jones go to the UH Hilo athletics website.