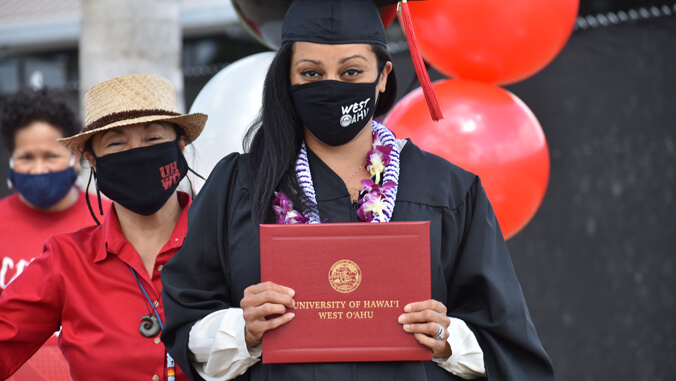 Three University of Hawaiʻi campuses, UH West Oʻahu, UH Hilo and UH Mānoa, will celebrate the accomplishments of their graduates with fall commencement.
UH West
Oʻahu
The fall 2021 commencement on December 11 is UH West Oʻahu's first in-person commencement since fall 2019. It features two ceremonies. The morning ceremony starts at 9 a.m. for business administration and applied science candidates. The afternoon ceremony begins at 1 p.m. for creative media, cybersecurity, education, humanities, natural science, public administration and social sciences candidates. Candidates are allowed two guests each. The events are only open to students and guests who registered for the ceremony. All attendees must be fully vaccinated and wear face masks throughout the ceremony.
Additionally, a separate virtual commencement ceremony can be viewed following the ceremonies and features Chancellor Maenette Benham, UH President David Lassner, Faculty Senate Chair Edward Keaunui, Associated Students of UH West Oʻahu President Gabriel Navalta, and keynote speaker Candy Suiso.
For more information, see the UH West Oʻahu commencement website.
UH Hilo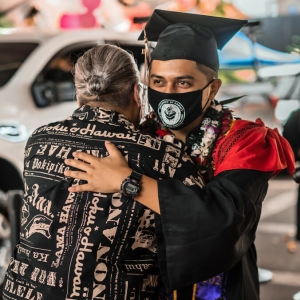 On Saturday, December 18, UH Hilo will hold two in-person ceremonies at Vulcan Gym. The first ceremony begins at 9 a.m. for students in the College of Arts and Sciences, Ka Haka ʻUla O Keʻelikōlani College of Hawaiian Language and College of Agriculture, Forestry, and Natural Resource Management. The second ceremony will be held at 2 p.m. for College of Natural and Health Sciences, College of Business and Economics, and Daniel K. Inouye College of Pharmacy students.
Approximately 232 UH Hilo students will receive their degrees and certificates, and are allowed to invite two guests who must be registered and present a proof of COVID-19 vaccination or negative COVID-19 test.
UH Hilo Geology Professor Steve Lundblad will provide the keynote address joined by student speaker, April Alohalani Kaluhiokalani Housman, a PhD candidate in Hawaiian and Indigenous language and culture revitalization.
The ceremony may also be viewed via live stream. For more information, see the UH Hilo commencement website.
UH Mānoa
UH Mānoa will hold two hybrid commencement celebrations on Friday, December 17 and Saturday, December 18 in SimpliFi Arena at Stan Sheriff Center. Elizabeth A. Char, Hawaiʻi state director of health, will be the fall 2021 guest speaker and Abby Kuba, Vietnam Executive MBA, is the student speaker. Their speeches will be posted on the commencement website.
Friday, December 17
4–4:15 p.m.—John A. Burns School of Medicine
4:15–4:30 p.m.—William S. Richardson School of Law
4:45–5 p.m.—Interdisciplinary Studies
5–5:30 p.m.—School of Ocean and Earth Science and Technology
5:30–6 p.m.—Thompson School of Social Work and Public Health
6–7 p.m.—College of Social Sciences
Saturday, December 18
9–9:30 a.m.—College of Tropical Agriculture and Human Resources
10–10:30 a.m.—College of Engineering
10:30 a.m.–11 a.m.—Nancy Atmospera-Walch School of Nursing
11 a.m.–noon—College of Arts, Languages and Letters (formerly Arts and Humanities, School of Pacific and Asian Studies, and Languages, Linguistics and Literature)
1–1:30 p.m.—College of Education
2–2:30 p.m.—College of Natural Sciences
2:30–2:45 p.m.—

Hawaiʻinuiākea

School of Hawaiian Knowledge
3–3:30 p.m.—School of Architecture
4–5 p.m.—Shidler College of Business, including the School of Travel Industry Management
Each graduating student and their guests (up to four) in attendance will be required to show their LumiSight UH app clearance in order to enter the arena. Beginning December 1, UH Mānoa will comply with new city and county guidelines at its athletic venues.
All attendees (exception, children under the age of 5), must provide proof of full vaccination or a negative COVID-19 test within 48 hours (two-days) prior to entry. The negative COVID-19 test result must be from an FDA approved, or FDA EUA approved, molecular or antigen test (home kits not allowed). Either vaccination card and/or negative test must be uploaded to the LumiSight UH app. Note: It may take up to 24 hours for upload to be approved.
Face coverings are still required (children age 2 and above) at all venues, whether indoors or outdoors, except while actively eating and drinking.
For more information, see the UH Mānoa commencement website.