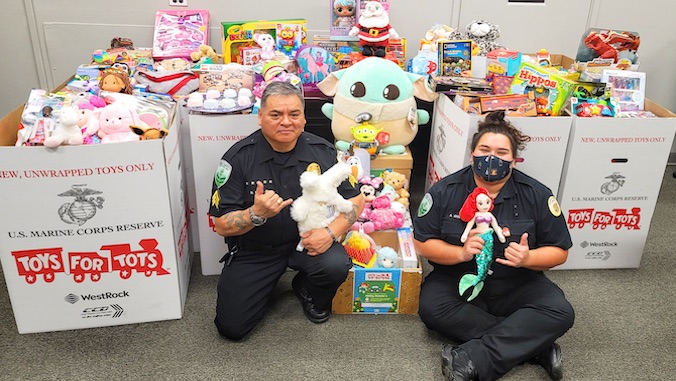 The University of Hawaiʻi at Mānoa's Department of Public Safety (DPS) once again hosted a Toys for Tots collection site this year, garnering even more donations than its inaugural drive in 2020. In a massive show of aloha, DPS filled more than eight large boxes with donations, including 297 toys, 62 stocking stuffers and 23 books. These donations will serve to benefit keiki in our local community.
The donation drive was held in November through early December. DPS offered its popular contactless pickup option, in which donors could schedule a time for DPS to pick up donations on campus. Many departments held their own office wide mini collection sites, and then made their collective donations to DPS. This proved to be very successful and easier to donate, as individuals didn't have to schedule their own delivery or pickup.
"We are once again so thankful for the University of Hawaiʻi at Mānoa coming together with such an amazing display of charity for children in need. DPS and Toys for Tots would like to extend a huge mahalo to all who contributed," said DPS Chief Andy Black.
"Mahalo to our Mānoa ʻohana for their generous spirit of aloha for our local keiki and families, and to our DPS staff for coordinating another successful toy drive," added UH Mānoa Provost Michael Bruno. "Theyʻve brightened the holidays for many during this season of giving."
Toys for Tots is a program run by the U.S. Marine Corps, who coordinated all collection sites on Oʻahu.