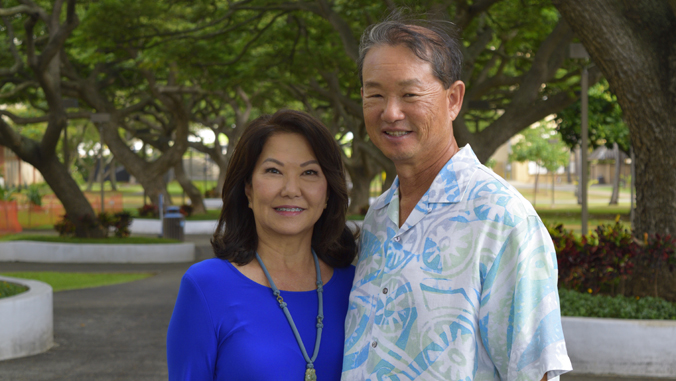 Ken and Donna Hayashida's first meeting was straight out of a romantic comedy—in an elevator while moving into the Hale Aloha Lokelani student housing tower on move-in day at the University of Hawaiʻi at Mānoa, with Donna's father standing between them.
"Ken jumped in the elevator with Dad and me, he said 'Hi, I'm Ken,'" Donna recalled. "My dad was not too happy because he wanted me to focus on studying."
The two became fast friends, with Ken knocking at Donna's door each night to invite her to join him at the student housing snack bar to talk about their days. They eventually went their own ways and, now, 41 years, two kids and one business after that first encounter, Ken and Donna Hayashida are making a substantial personal investment in their alma mater, with gifts totaling $250,000 to the College of Engineering and the Nancy Atmospera-Walch School of Nursing, to ensure other students can get the same quality education they received and to invest in Hawaiʻi's future.
In addition to a $250,000 gift to the College of Engineering from KAI Hawaii Inc., the structural engineering company founded by Ken in 1995, the couple has committed a total of $500,000 to UH.
"We've been very blessed and fortunate in our lives and lots of it has to do with the University of Hawaiʻi," said Ken, a 1983 College of Engineering alumnus. "The University of Hawaiʻi has provided a great education."
While the couple had always planned to make a gift to UH as part of their estate planning, the COVID-19 pandemic put such planning in sharp relief and they decided to move up their timetable.
"The last few years have changed how we see life and the world as a couple," Donna said. "The university needs our help now more than ever, so why wait? The time to give back is now. We're thinking about the future of Hawaiʻi. Our community is our ʻohana."
Giving back to UH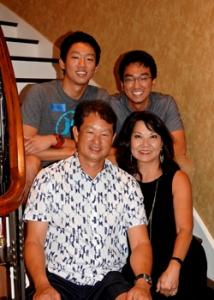 The Ken and Donna Hayashida Foundation Nursing Scholarship Endowment will support nursing students by helping to pay for costs associated with attendance such as tuition, books and fees. The Ken and Donna Hayashida Foundation Leadership Endowment at the College of Engineering will support student leadership activities, specifically the college's Leadership Seminar Series and other events linking students with community leaders. A separate $250,000 gift from KAI Hawaii will endow a new Vertically Integrated Project related to sustainability and resilience.
"Ken and Donna's gift is a special reminder of how nurses make a difference in so many lives every single day. Their endowment will ensure generations of nursing students receive needed scholarships to stay in school and focus on their studies," said Clementina D. Ceria-Ulep, interim dean of the UH Mānoa Nancy Atmospera-Walch School of Nursing. "We are forever grateful for their gift and for their dedication to educating our future nurses."
"Ken and Donna have been longtime supporters of the university as a whole, but especially the College of Engineering and School of Nursing. Having alumni like the Hayashidas giving back to their alma mater the way they have is truly humbling to us because our success as a university really lies with our alums," said Brennon Morioka, dean of the College of Engineering. "So our work is cut out for us to ensure we are continuing to uphold the quality of education we provide our students while also developing new and creative opportunities for them to succeed."
Value of education
Both Ken's and Donna's grandparents and great grandparents immigrated to Hawaiʻi to work on plantations. Both of their fathers were the first in their families to graduate from college and both graduated from UH—Kenʻs father, Kazu Hayashida, was an engineer who served as director of the State Department of Transportation, and Donna's father, William Lau, was a pathology medical technologist at Kuakini Medical Center. Donna and two of her six sisters were in college at the same time so the two scholarships she received were essential to helping her graduate with her nursing degree.
"I've been eager to pay it forward ever since, which is why we decided to create a School of Nursing scholarship and an education development fund for the College of Engineering," Donna said. "We've seen firsthand how nurses and engineers touch everyone's lives, from birth to death, so we made a decision to support future generations of nurses and engineers through these two new endowments."
Ken has also been passionate about supporting his alma mater, serving on the College of Engineering Dean's Council and as president and director on the board of the UH Alumni Association.
"The University of Hawaiʻi is key to providing us young people who are committed to change our community for the better," Ken said. "And that's going to require all of us to invest in our university so that we have young people that can lead and innovate and provide us a safe, sustainable and resilient community."
For more on the Hayashida family, visit the UH Foundation website.
This effort is an example of UH Mānoa's goal of Enhancing Student Success (PDF), one of four goals identified in the 2015–25 Strategic Plan (PDF), updated in December 2020.