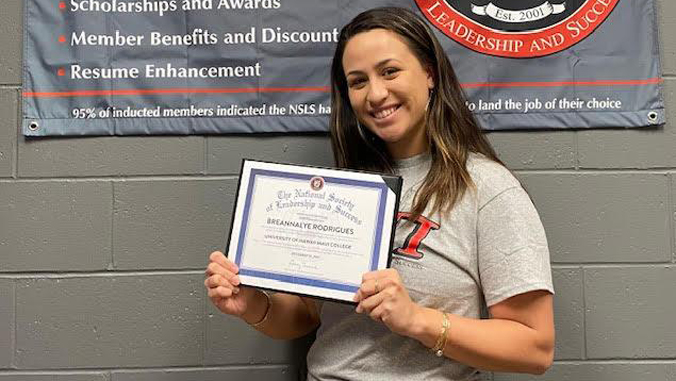 Sixty-two students were inducted into the University of Hawaiʻi Maui College chapter of the National Society of Leadership and Success (NSLS). Students were selected by their colleges for membership based on academic standing or leadership potential. Candidacy is a nationally recognized achievement of honorable distinction. The NSLS currently has more than 1.2 million members nationwide in more than 700 chapters.
"Joining the NSLS is a life-changing experience that supports my current as well as post-college goals," said NSLS UH Maui College Chapter President Breannalye Rodrigues. "The most rewarding part of the NSLS was meeting students from various backgrounds and learning more about our campus community here at UHMC. Through the NSLS I learned a lot about putting my goals into action and taking the proper steps to be successful in doing so."
The NSLS provides a step-by-step program for members to build their leadership skills through participation both on campus and online. Grounded in a relationship leadership model, students who are invited to join the society must complete a number of steps towards induction. These include attending and participating in orientation, leadership training day, and three speaker broadcasts featuring leaders from diverse industries and professions; and being a part of a success networking team that meets three times per semester.
Upon completion of the program, members receive their leadership certificate and take their place among the top student leaders on their campus and across the country.
"NSLS provides tools and resources that positively impact the lives of students while setting them on a path towards future success," said UH Maui College Advisor Albert Paschoal. "By expanding the skills of leadership, we can hopefully develop active members of society that contribute to the betterment of our local community and beyond."
Here are the UH Maui College students inducted into NSLS in fall 2021:
Abigail Cayetano
Aiza Medina
Akira Foreman
Amanda Malubay
Andrea Christian
Angelica Acaso
Ariana Duncan-Nakasone
Bhejay Yadao
Brandon Racoma
Breannalye Rodrigues
Briana Lagrimas-Melendez
Britney Bautista
Cammi Hawkins
Camryn Kunioka
Claire Barclay
Clariza Joyce Tabag
Clifford Russell
Danica Luis
Daniella Ysabelle Tabag
Dawn Johnson
Elijah Evangelista
Esperanza Turrieta
Eternity Ray Taclan Chang
Hailey Chun
Heather Walters
Holly Lutnick
Hope Wasserman
Jacklyn Evanko
Jacob Jones
Jennifer "Kahala" Chrupalyk
Jenny Rose Batangan
Jessica Cocson
Joanne Libed
John Denver Maglaya
Kailani Phillips
Kaimalie Nonaka
Kanani Palakiko
Kirill Asmirko
Lane Day
Laura Dunham
Lenique Fraser
Liana Kanno
Lindsey Tawney Saludares
Lucena Gaceta
Luka Kozic
Marcil Choun
Maria Santiago
Mariana Joy Decena
Mark Dominick Cabalse
Michael Adams
Michelle Pupuhi
Natasha L. Andaya
Nathalie Taroma
Nathan Vanderpool
Nicole Anne Guzman
Roselani Kekaha
Sherae Hanchett
Shmily Versola
Sommer Kimokeo
Uilani Launaole Kaholokula Omalza
Wailana Purdy-Avelino