The University of Hawaiʻi at Mānoa John A. Burns School of Medicine (JABSOM) bid a fond aloha to two of its long-time leaders in the Department of Native Hawaiian Health (DNHH) who retired at the end of December 2021. Stephen "Kalani" Brady, director of faculty affairs and continuing medical education, and Mele Look, director of community engagement, have dedicated decades of service to the medical school, UH and the local community through their meaningful work to better the health and welfare of the people of Hawaiʻi.
"The medical school celebrates the collective works of these legends of the Department of Native Hawaiian Health. Both Dr. Kalani Brady and Mele Look have held essential roles in the department (and medical school). Their presence will be sorely missed," said Dean Jerris Hedges.
Kalani Brady, trusted physician and professor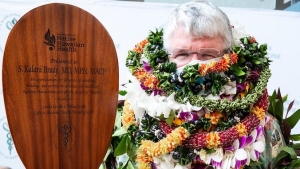 Brady has been with JABSOM for 35 years, 18 of them within DNHH. At age three, Brady said he already knew his calling was to become a physician. "Much like a priest that helps people with their spiritual health, doctors help people with their overall health," he said.
After graduating from Saint Louis School, he attended Harvard University where he graduated with honors in engineering and applied physics. He then enrolled at UH Mānoa and earned a master's degree in public health, and a master's and doctorate in biostatistics and epidemiology from the University of Pennsylvania. He returned to Hawaiʻi for residency training in internal medicine.
Brady began his career at JABSOM in 1986, where he has served as director of faculty affairs and continuing medical education and associate professor in DNHH. He has been recognized with a long list of awards throughout his career, including "Physician of the Year" by multiple organizations.
Brady's medical background and understanding of the local culture in Hawaiʻi opened the door for him as the beloved featured physician on the weekly "Ask A Doctor" segment on the KHON2 morning news for the past 26 years.
He also held a trusted and valued relationship with the Hawaiian residents of Kalaupapa who he began treating for Hansen's disease in 2003. Today, there are only a handful of patients who are now in their 90's. Brady still travels to see them every month and continues to advocate for them.
The "retirement to-do" list for Brady includes babysitting his three grandchildren, traveling with his wife, Jun, and focusing on his health.
Mele Look, dedicated Native Hawaiian health advocate
For the past 45 years, Look has dedicated most of her life to Native Hawaiian health disparities as a researcher, health program developer and community advocate. She has worked with Hawaiian and Pacific Islander communities to develop, implement and evaluate health education and intervention programs, all of which include elders.
When Look joined JABSOM, she was only the third employee for DNHH and has been essential in building the foundation of the department. Today, the department has grown to house two divisions related to Native Hawaiian health and welfare—the Imi Hoʻōla Program and the Native Hawaiian Center of Excellence.
For the past 21 years, Look has served as the director of community engagement. She established and facilitated a community health coalition, the Ulu Network, which has grown to include 38 organizations, with 80+ sites across Hawaiʻi including all 19 federally qualified health clinics and all five federally established Native Hawaiian Healthcare Systems.
The ongoing studies with hula as a health intervention has been the culmination of her work in Hawaiian health for more than 40 years. Look has been a cultural practitioner of hula for nearly 50 years, with 20+ years of formal traditional training.
Out of all her many accomplishments, Look said her greatest legacy has been mentoring her students. "My research assistants, my graduate assistants, to have them going forward–they're the flowers that are now blossoming for the next generation."
Read more about Brady and Lookʻs accomplished careers.