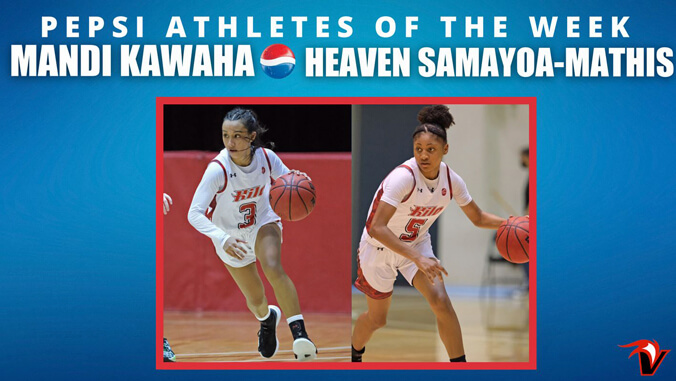 The University of Hawaiʻi at Hilo women's basketball team topped nationally ranked Alaska Anchorage 76-73 in overtime on December 19. The Vulcans came together for a team win but two players stood out—Mandi Kawaha and Heaven Samayoa-Mathis. They were named this week's Pepsi Athletes of the week.
Kawaha led the Vulcans with 21 points and six assists, and had the game-winning bucket in overtime. She shot 50% in the field and was 6-for-7 at the free throw line and 2-for-2 behind the arc. She also collected two rebounds and a steal against the Seawolves.
Samayoa-Mathis was the second-highest Vulcan scorer, setting a career high of 16 points. She was 5-for-7 in the field, 3-for-5 behind the arc, 2-for-3 at the free throw line and had one assist. She also collected a rebound and a steal.