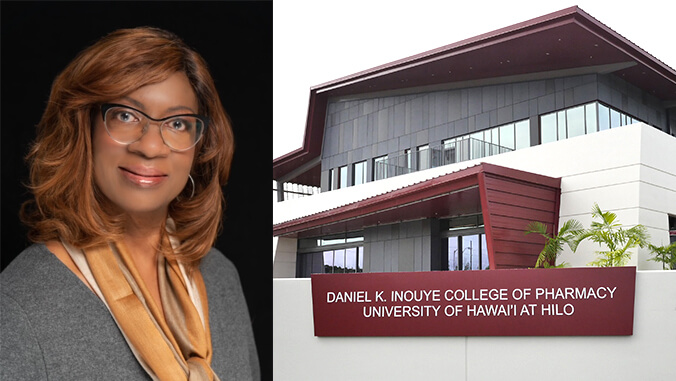 The University of Hawaiʻi at Hilo will welcome an interim dean to its pharmacy college on February 1. Veteran pharmacy academic Miriam Mobley Smith will officially step into the role at the UH Hilo Daniel K. Inouye College of Pharmacy (DKICP) replacing Dean Carolyn Ma who is retiring this spring.
"This is a pivotal time for the future of DKICP, and it is imperative that we have an experienced administrator at the helm, even in the interim period," said Kris Roney, UH Hilo vice chancellor for academic affairs. "She has expressed considerable excitement about DKICP and is already contemplating spaces for revenue generation, budget correction and pathways into DKICP that we may not yet have explored fully."
Mobley Smith earned her doctor of pharmacy with high honors at the University of Illinois at Chicago, where she served in numerous faculty positions for more than 13 years. At Chicago State University, she held multiple roles within the pharmacy department, such as associate professor and dean until her retirement in 2015. She has continued her long-standing work with the Accreditation Council for Pharmacy Education as an educational consultant and site reviewer.
Established in 2006, DKICP admitted its inaugural class in 2007, and is the only pharmacy college in the Pacific Rim.
The search for a permanent dean for the college is expected to commence in late summer.