Growing up, Beau Nakamori never intended to become an architect. As a child who struggled in school, he always had a passion to one day help reform Hawaiʻi's educational system through building a school. "I've always dreamt about seeing Hawaiʻi's education become stronger and more applicable for the 21st century," he said.
Nakamori, a doctoral student of architecture at the University of Hawaiʻi at Mānoa School of Architecture and recent graduate of the bachelor of environmental design program, is one of four students featured in UH Mānoa's "Finding Our Kuleana" campaign, a collection of personal narratives that capture haumāna (students) who discover their purpose and sense of responsibility while pursuing college degrees. It is an opportunity to reimagine and illustrate how UH Mānoa can best serve our communities.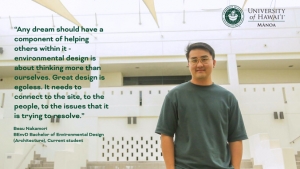 Nakamori struggled with his education growing up and at an early age realized that many of his classmates also struggled.
"I was in special reading classes, failed math countless times and I could never pick up another language in a traditional setting," he said. "What took others 30 minutes to do, it would take me at least four hours."
His struggles in school became a catalyst for a dream he's had since high school, to build a school to better Hawaiʻi and help children who struggle in a more traditional learning setting. As an incoming freshman at UH Mānoa, an advisor told Nakamori that architecture would be a good fit to help him accomplish his dream.
"I realized that in life, you'll almost never find a direct path to a dream," Nakamori said. "On pure blind faith, I changed my pursuit of an education major to an architecture major, two weeks before school was about to start. With faith, passion, hard work and support from others, I see today the importance of having a dream and just taking action."
The greater good
During his time at UH Mānoa, Nakamori has won multiple architecture competitions. By displaying the strength and beauty of local woods that are sustainably produced in Hawaiʻi's forests, he won first and second place in the 2021 I+I Student Challenge for his pieces "Beautie Bench," and "The Primavera Box," and was awarded "Most Promising Young Artist" at Hawaiʻi's Woodshow. In the 2020 I+I Student Challenge, Nakamori won first place for his piece, "The Overripe Banana."
"As architects, we must listen to the existing site conditions and community to understand what needs to be designed. It is our kuleana," said Nakamori.
"One day I know I will build a school to better Hawaiʻi," added Nakamori. "I also hope to do so much more than that because of all the tools and knowledge that my professors, classmates and mentors have taught me. I believe that deep down, every single person has some sort of dream or calling, small or large, that can contribute to the greater good of humanity."
This campaign is an example of UH Mānoa's goal of Becoming a Native Hawaiian Place of Learning (PDF), Enhancing Student Success (PDF), Excellence in Research: Advancing the Research and Creative Work Enterprise (PDF) and Building a Sustainable and Resilient Campus Environment: Within the Global Sustainability and Climate Resilience Movement (PDF) the four goals identified in the 2015–25 Strategic Plan (PDF), updated in December 2020.