Chef Yuta Makino, an accomplished restaurateur who is now the resident chef for the Consulate General of Japan in Honolulu, treated Kapiʻolani Community College culinary arts students, faculty and staff to an in-person lecture and demonstration on the essence of Japanese cooking in January.
During the presentation in front of culinary arts students in Kapiʻolani CC's demonstration kitchen and for those who joined the livestream online, Makino first explained how washoku (Japan's traditional dietary culture that was added to UNESCO's Intangible Cultural Heritage list in 2013) and fuumi (the understanding that fragrance is another element of taste) are essential elements of Japanese cuisine.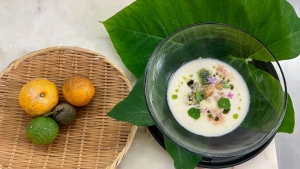 He illustrated these techniques while developing a taro vichyssoise, a cold soup fusion dish, drawing on his 30 years of experience journeying through Japan, France and Hawaiʻi. His unique spin on the dish used Japanese dashi (soup stock) instead of chicken broth and taro instead of potatoes.
The soup, created with local ingredients from Hawaiʻi and dusted with fresh yuzu peel to accentuate the fuumi, wowed the culinary arts students in attendance who were given a tasting.
Amazing! There were so many flavors that I couldn't quite process it all at once—it kept me wanting more.
—Rocio Loza, culinary arts student
"Amazing! There were so many flavors that I couldn't quite process it all at once—it kept me wanting more. When you tasted it there was no overpowering or clash between ingredients but instead worked together to create a perfect balance that gave you a soothing feeling," said Rocio Loza, a Kapiʻolani CC culinary arts student. "I enjoyed watching him create a flavor that was unfamiliar to me using ingredients that are ordinarily used in a typical household. It was fascinating to see Chef Makino use tools and techniques from Japan and incorporate them in his cooking process to make a French dish, with the addition of foods commonly used in Hawaiʻi, altogether creating an aroma that excites your senses and soothes your palate."
After the demonstration, the students asked Makino questions about his experience cooking for the emperor of Japan to his favorite local restaurants, foods to eat and local ingredients. It was an invaluable experience that left an impression on those who attended.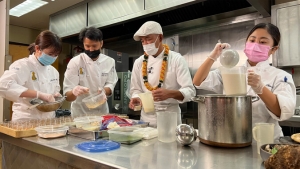 "The interactions between working chefs and our culinary students are a vital part of bringing the industry into the classroom," said Grant Itomitsu, culinary arts program chair. "Chef Makino brought his global work experiences, knowledge of ingredients from around the world, then combined them with local products to create a fusion dish inspired by Japan, France and Hawaiʻi. He emphasized the importance of aroma, or fuumi, in obtaining a comprehensive experience with dishes. These types of experiences are integral in developing interest and passion for our culinary students."
The Kapiʻolani CC Culinary Arts Program regularly hosts prominent culinary chefs to share their knowledge with the students. Notable guest chefs have included Zen Buddhist nun Jeong Kwan, Top Chef contestant Edward Lee and Alex Atala, who was called "the worldʻs most influential chef" by Forbes.
—By Kim Baxter