The UH KIDS FIRST! Film Festival, presented by the Outreach College at University of Hawaiʻi at Mānoa, is back after a two year break due to COVID-19 restrictions. The virtual 14th UH KIDS FIRST! Film Festival will stream more than 100 films made by student, indie and seasoned filmmakers from 25 nations for kids ages 2–18+. This family fun event is free of charge and will run February 12–21.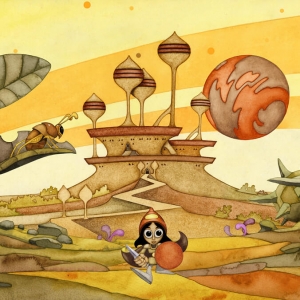 Curated locally, and part of the 30th anniversary celebration of the national KIDS FIRST! organization, the 10-day festival offers age appropriate programs focusing on climate change and the environment, space and technology, social justice and tolerance.
The animated and live-action shorts, features and documentaries from around the world are free of gratuitous violence; race, gender or religious bias; inappropriate content; and condescension toward children.
For details and to reserve free tickets, check out the Virtual Festival Catalog.
Festival highlights
Saturday, February 12
Toons for Tots to Tweens
12 films, ages 2+
Adorable animated shorts from five countries, including films by students.
Global Imagination Animation
12 films, varied age groups
Award-winning animation from the U.S., U.K., Bulgaria, Ukraine, Kazakhstan, Canada, Spain, Korea and Japan.
World Premiere: DreamWorks Madagascar: A Little Wild (Gloria's Got 'Em All episode)
Episode features a "sign over" performance by deaf actress Shaylee Mansfield.
Live stream Interview/Q&A, February 12, 12–12:30 p.m. HST

Johanna Stein, executive producer and showrunner
T.J. Sullivan, supervising director
Justin Maurer, ASL consultant
Delbert Whetter, ASL consultant
Jevon Whetter, ASL consultant

Laura Margulies

Laura Margulies: Hand-Painted Animation
3 films, ages 5–18
Hand-painted animated shorts: Blue Cooler, Hepa and Rolling Down Like Pele
Live stream: A Conversation with Laura Margulies, February 12, 1–1:30 p.m. HST
Margulies combines motion, color, texture, live action, rhythm and sound to create award-winning, expressive films. She often animates with paint in a stop-motion style. She currently is an assistant professor of animation at the Academy of Creative Media at UH Mānoa.
Sunday, February 13
Kids to the Rescue
11 films, ages 3+
Animation and live-action shorts for kids who care about our planet from the U.S., U.K., Germany, Malta, Turkey and China.
Care to Change
15 films, ages 5+
Empowering animation, live-action and music video shorts focus on the impact of kids on contemporary issues.
Enviro/Adventure Feature: The Sentries of the Delta
Ages 10–18
Adventures of children at an environmental camp in the Danube Delta Natural Reserve between Romania and the Ukraine.
Monday, February 14
Matters of the Heart
10 films, varied age groups
A Valentine to silly, sweet, deep and unconditional love from the U.S., U.K., Canada, Argentina, Germany, Italy, Japan, China and Iran.
Tuesday, February 15
Animation feature: Louisa, an Amazing Adventure
Ages 8+
State-of-the-art technology brings to life the true story an astonishing lifeboat rescue during Britain's wild 1899 storm at sea.
Wednesday, February 16
You Do You No Matter Who (Part 1)
9 films, ages 8+
With artistry and humor, short films about building bridges and finding common ground across differences.
Thursday, February 17
Music Moves
2 films, ages 8+
Pops is Tops—a musical journey through the home of Louis Armstrong and Quaranteened: A Virtual Musical—written and performed by teens trying to stay connected in a world where they must self-isolate.
Friday, February 18
All Kine Kids
9 films, varied age groups
Delightful tales of kids being kids, everywhere—from the U.S., Canada, Belgium, Iran and Mongolia.
Saturday, February 19
You Do You No Matter Who (Part 2)
9 films, varied age groups
Rabbits, bears, aliens, artists and others portray and reveal our shared humanity.
Culture[s] 8 films, varied age groups
The healing power of arts and culture, legends and folktales, traditions and cultural identity.
The Bum Family Films
4 films, ages 7+
The Bum Family collective of six cousins and their moms have been writing and animating films since 2010. The trademark character is Lilly, a 10-foot tall orange monster.
Live stream chat with the Bum Family, February 19, 11:30 a.m.–12 p.m. HST
Madcap Movie: Hotel Paraíso (Hotel Paradise)
Ages 9–15
At a resort in the Peruvian desert, a boy confronts his insecurities and the school bully to win the heart of the girl of his dreams.
Sunday, February 20
Clever Kids: Robots, Rockets and Technology
8 films, varied age groups
Animation, live-action, and documentary shorts about tech-savvy inner and outer space exploring kids.

A Boy's Journey: Crossing the

ʻAlenuihāhā

(Photo credit: Amanda Beenen Cantor)

Adventures on Land and Sea
2 films, ages 6–18
Two films feature three kids devoted to their passions: hiking the Grand Canyon and wing foiling across the

ʻAlenuihāhā

Channel.
Live stream interview/Q&A with Bobo Gallagher and Deveraux Gallagher (A Boyʻs Journey: Crossing the

ʻAlenuihāhā

Channel), February 20 11:30 a.m.–12 p.m.
Eleven-year-old Bobo Gallagher is the youngest person to cross the

ʻAlenuihāhā

Channel via wing foil. His sister, Deveraux directed and edited the documentary.
Girls Rule: Robotics and Astronomy
2 films, ages 9–18
The Missfits—an all-girls robotics team competes to smash stereotypes and prove themselves in a male-dominated field. Clarita's Universe—a spunky 12-year-old girl explores the universe.

MeteoHeroes

MeteoHeroes, Episode: Noise Pollution (U.S. premiere) and interview with Luigi Latini, creator/executive producer
The Meteoheroes rescue a pod of dolphins in the Pacific Ocean who are disoriented by a shipʻs powerful sonar. MeteoHeroes airs in over 140 countries, and is dubbed in 20 languages. "MeteoHeroes was born precisely from our need to put kids first in education towards the need to recycle, consume better, fight pollution and tackle climate change…" – Luigi Latini
Live stream Q&A with Kenn Viselman, showrunner/executive producer on February 20, 1–1:30 p.m. HST
Kenn Viselman has created, produced, marketed and or consulted on dozens of family entertainment projects and is producing partner behind the Teletubbies in the Western Hemisphere. He is currently the showrunner and executive producer for MeteoHeroes, the definitive family series about climate change.
Presidents Day, Monday, February 21
Last day to catch up on missed films and vote for your favorites!