University of Hawaiʻi–West Oʻahu graduate and professional surfer Moanalani Jones Wong won the first-ever women's Billabong Pro Pipeline in February at North Shore's legendary Banzai Pipeline.
The Billabong Pro Pipeline is the kickoff event of the World Surf League 2022 Championship Tour season and, for the first time, every stop will feature both women and men.
The Pipeline win isn't the first time that Jones Wong has made history.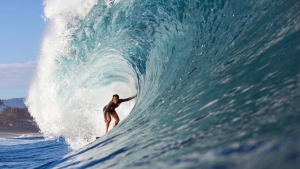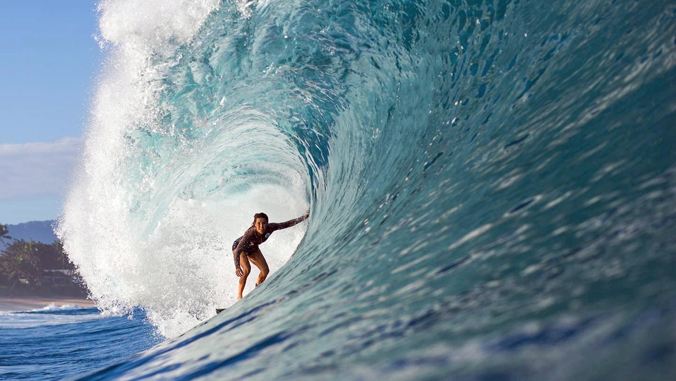 Jones Wong became the first graduate of UH West Oʻahu's bachelor of applied science–Hawaiian and Indigenous health and healing (HIHH) program when she graduated in 2021.
The HIHH concentration, introduced in fall 2019, strives to create a pathway for the dissemination of traditional healing knowledge and skill that will serve as a model for other Indigenous groups.
As part of her graduation requirement, Jones Wong presented a senior project titled, "Surfing: More Than a Sport."
Pro surfer makes waves, history with UH West Oʻahu degree, May 4, 2021
"I feel so connected to my culture, my ancestors and the ocean when I am out there," said Jones Wong, who is part Hawaiian. "Surfing gave me my identity. It empowered me. In my hardest times I found peace in the ocean."
It was a topic she was happy to present on, because many don't realize how significant surfing is to Native Hawaiians.
"It is much more than a sport to us," she said.
At the Billabong Pro Pipeline, Jones Wong defeated five-time World Champion and Olympic gold medallist Carissa Moore. World Champion and surf icon Kelly Slater won the men's competition.
"Nothing beats pulling into a big barrel at Pipeline," Jones Wong told Ka Puna O Kaloʻi in 2021. "I feel so connected, so happy and so alive. It's a feeling that I can't describe. Nothing beats it."
Read more in Ka Puna O Kaloʻi.
—By Zenaida Serrano Arvman