Experience unique stories about Maui's Haleakalā—the State of Hawaiʻi's third tallest peak—from stewards of the last 50 years. The University of Hawaiʻi at Mānoa's Center for Oral History is working with the National Park Service (NPS) to collect oral interviews with current and former park staff and community members with close ties to Haleakalā National Park. The project's purpose is to learn more about the crater, its natural resources, history and the individuals who dedicated their lives to the stewardship of the mauna. These never before seen interviews are available to the public free of charge.
Graduate assistant Alana Kanahele from the Center for Oral History in the ethnic studies department in the College of Social Sciences, with the help of Center for Oral History Associate Director Micah Mizukami, has conducted, transcribed and archived 13 interviews, with more to come in spring 2022. Some of the interviews were conducted virtually and others were in-person.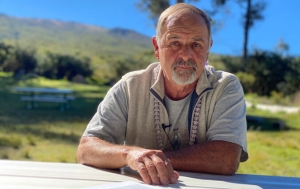 "While witnessing Haleakalā simply through her physical beauty is awe-inspiring, hearing her stories through the eyes of her stewards and their experiences with the Mauna over the last 50 years was incredibly memorable," Kanahele said. "Having the opportunity to listen, laugh and learn from each of the narrators was an unforgettable experience. Many of these individuals have devoted their lives to caring for this landscape and maintaining the cultural connections between this ʻāina, Kanaka and those that have been impacted by its grandeur."
View the interviews and read the transcripts on the NPS website, StoryMap website and ScholarSpace.
Haleakalā National Park, whether it's Kīpahulu or in the summit district or crater, is a cultural park as important as the scenic value…The culture is alive today.
— Ted Rodrigues
The interviews were conducted with former botanists, resource managers, cultural practitioners, volunteers and more. Mizukami recalled a visit with Ted Rodrigues, a former backcountry ranger at Haleakalā. He said after the interview, Rodrigues took them on a tour of some of the lands he used to manage.
"He took us ʻōhelo berry picking since they were in season," Mizukami said. "Seeing him in his element, pointing out markers he would notice on the trail and walking through the brush, was truly amazing. It added so much context to what he shared in his interviews."
Rodrigues added, "Haleakalā National Park, whether it's Kīpahulu or in the summit district or crater, is a cultural park as important as the scenic value…The culture is alive today."
Project's early roots
Professor and Center for Oral History Director Davianna Pōmaikaʻi McGregor and Mizukami were involved in discussions with the National Park Service beginning in early 2020 before project details were finalized in August 2020.
This project was funded by NPS and conducted through the Hawaiʻi-Pacific Islands Cooperative Ecosystem Studies Unit—a partnership program between 10 U.S. federal agencies and 14 non-federal members. It is one of 17 CESUs across the U.S. that were developed to foster federal/non-federal partnerships to steward cultural and natural resources on public lands.
This project is an example of UH Mānoa's goals of Excellence in Research: Advancing the Research and Creative Work Enterprise (PDF) and Becoming a Native Hawaiian Place of Learning (PDF), two of four goals identified in the 2015–25 Strategic Plan (PDF), updated in December 2020.