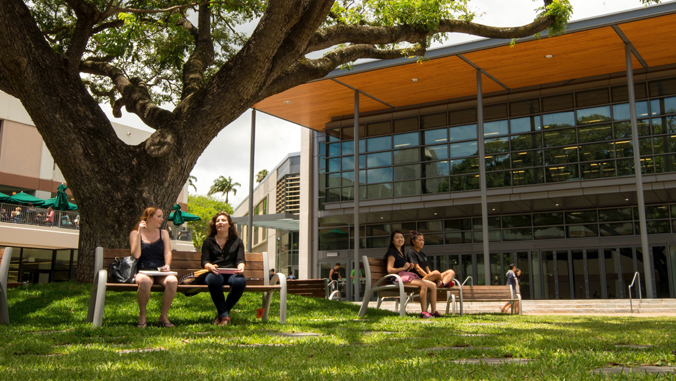 The University of Hawaiʻi at Mānoa was invited to participate in an Association Of College And University Educators (ACUE) study focused on "gateway" courses that will examine the effects of high-quality professional development. Gateway courses are those that departments want students to take to effectively enter into that discipline's field of study. The ACUE study will explore the relationship between implementing evidence-based and equity-promoting teaching practices and positive mindsets, stronger student outcomes, and narrowing equity gaps.
The study is funded by the Bill & Melinda Gates Foundation.
"We are honored to take part in this important study, which both recognizes and supports our institution's goals for student success and equity," said UH Mānoa Provost Michael Bruno. "Findings from this study will help deepen our understanding of how to support stronger, more equitable student outcomes."
UH Mānoa will receive $200,000 in services and direct funding, including:
Enrollment of three faculty cohorts—approximately 90 to 100 people—into ACUE's full credential course in Effective Teaching Practices or Effective Online Teaching Practices through which research data will be collected
A direct grant of $50,000 to defray the institution's program-related expenses (e.g. office of institutional research staffing, cohort facilitation, project management, etc.)
ACUE Research support services
Comprehensive partnership services from an ACUE support team consisting of a partnership director, success manager, academic strategy consultant, director of implementation, and communications specialist.
The invitation letter stated, "We estimate that this program will benefit over 10,000 of UH's students (or 'student enrollments'), annually, given typical teaching loads, and add important contributions to our understanding of faculty impact on student success."
Participating faculty will have the opportunity to earn ACUE's Certificate in Effective College Instruction, the only nationally recognized collegiate teaching credential endorsed by the American Council on Education. The deadline to apply for the program is February 11.
The program will involve participation of the Office of the Vice Provost for Academic Excellence, the Office of Student Academic Success, and the Center for Teaching Excellence. If you are a faculty teaching a gateway course for your department and did not receive an invitation to participate, contact the Center for Teaching Excellence at cte@hawaii.edu.