Video courtesy: Olonā Media
A team of Native Hawaiian models, musicians and dancers graced a New York Fashion Week runway in February to highlight one-of-a-kind creations by Ola Hou Designs' Sharayah Chun-Lai. The University of Hawaiʻi at Mānoa alumna, who earned a bachelor's degree in fashion design and merchandising, was the first kānaka ʻōiwi wahine to accept an invitation from fashion week producer Runway 7.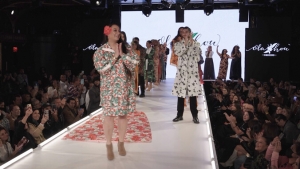 "I'm so honored for this opportunity," Chun-Lai said. "For the opportunity, for not only Ola Hou but this entire team to be able to just showcase ourselves, our Hawaiʻi, our families on the runway."
Among the new prints Chun-Lai premiered during fashion week was "Pueo." She dedicated this design, named for the Hawaiian owl, to her late grandfather Gregory Trifonovitch, who was also known as "Dedo," which means grandfather in Macedonian.
"My kupuna, my guardian, my protector. Today we honor your heavenly birthday. The man who helped me truly get started on this journey and this business in fashion, this print is for you," she wrote on February 10, Trifonovitch's birthdate and the day of the fashion show.
Chun-Lai, who is also a Kamehameha Schools Hawaiʻi alumna, launched her modern Hawaiian-inspired clothing and lifestyle retail line in 2019.
"After having my daughter, I wanted to show her that if you set your mind to what you want, work hard and dedicate time and effort in what you do, you can truly achieve anything," she said. "Ola Hou's literal meaning translates to 'New Life.' My goal is to bring forth new styles and designs that fit into the modern Hawaiian inspired clothing that we call Aloha Wear."
She and the Ola Hou team did just that—bringing Hawaiʻi and aloha to the Big Apple and the fashion world's bright stage.
—By Kelli Abe Trifonovitch