When he initially came to the University of Hawaiʻi at Mānoa, Jacob Vasquez enrolled in the pre-engineering program. After learning about the global environmental science (GES) program in the UH Mānoa School of Ocean and Earth Science and Technology (SOEST) and seeing that the courses were closely aligned with his interests, Vasquez saw a new academic path for himself.
As a high school student in Grover Beach, Calif., Vasquez secured a job at a land surveying and engineering consultant firm.
"I have always been extremely interested in renewable energy and energy infrastructure, transportation systems, urban planning and physical oceanography," said Vasquez. "My job in high school was a great step toward seeing what the field of engineering is really like."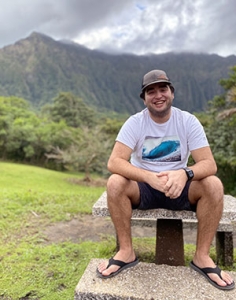 Prompted by a recommendation from the chairperson of the GES program, Michael Guidry, Vasquez reached out to Godwin Severa, an assistant researcher at the Hawaiʻi Natural Energy Institute in SOEST, to inquire about available research opportunities.
Improving air purification technology
Vasquez now works in Severa's laboratory where they will be testing specialized materials that capture atmospheric acidic gasses that can pass through and impact the efficiency of fuel cells as they generate clean energy. To improve air purification technology, Vasquez will analyze the capacity for various materials to absorb gasses such as carbon dioxide, hydrogen sulfide, nitrogen dioxide and sulfur dioxide.
"Although the undergraduate thesis requirement was a bit intimidating, it's also very exciting because of the level of experience I am attaining from the whole process," said Vasquez. "I think the most satisfying aspect of my research is that it is contributing to fuel cells which is a growing industry for the energy and vehicular fields. It is also rewarding because fuel cells are such a great clean alternative compared to the other energy and transportation systems."
Vasquez will graduate in fall 2022 and plans to apply to internships and jobs related to his interests in natural energy, transportation and physical oceanography.
This effort is an example of UH Mānoa's goal of Enhancing Student Success (PDF) and Excellence in Research: Advancing the Research and Creative Work Enterprise (PDF), two of four goals identified in the 2015–25 Strategic Plan (PDF), updated in December 2020.
For more information on the GES program, see SOEST's website.
–By Marcie Grabowski