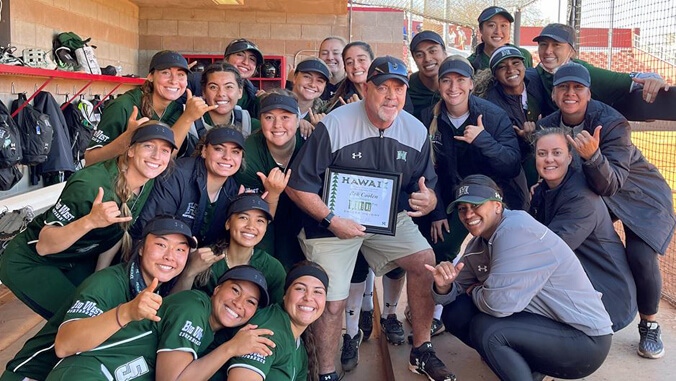 University of Hawaiʻi at Mānoa softball Head Coach Bob Coolen scored his 1,100th career win when the Rainbow Wahine beat California State University, Bakersfield on February 13, at the University of Nevada, Las Vegas's Eller Media Stadium. Coolen became the 30th head coach in NCAA Division I history to reach the 1,110 win milestone.
Coolen, who is in his 31st season at the helm of the Rainbow Wahine program now has a 1,100-745-1 career record which included five years as the head coach of Bentley College. This is his 33rd season at UH as he served two seasons as an assistant to then head coach Rayla Allison. Coolen currently has a 1,028-652-1 record at UH.
There are only four coaches who recorded more than 1,000 wins at UH—Jim Schwitters (men's and women's tennis), Dave Shoji (women's volleyball), Les Murakami (baseball) and Coolen.
Coolen is the second longest tenured coach at UH Mānoa, only sailing's Andy Johnson has served longer at 32 years.