The public is invited to experience the healing power of moʻolelo (stories) through the National Endowment for the Arts (NEA) Big Read Hawaiʻi. Celebrate poetry, art and storytelling with free online events including book readings, discussions with authors and artists, slam poetry and nature writing workshops, film screenings and more, as part of Big Read Hawaiʻi.
Kapiʻolani Community College's Lama Library will host the virtual NEA Big Read program exploring An American Sunrise by Joy Harjo, current U.S. poet laureate and member of the Muscogee (Creek) Nation, and other companion titles from March 10 to April 22, 2022. During this time, free books and take-and-make activity kits for adults and keiki will also be available statewide. More than 650 books will be given away at Hawaiʻi, Kauaʻi, Maui, Molokaʻi and Oʻahu libraries.
The Big Read Hawaiʻi kick-off event on Saturday, March 12 features Kealoha, Solomon Enos, Connie Florez, ʻĪmaikalani Kalāhele, Lee A. Tonouchi and other presenters.
The month-long celebration continues with Chris Caravalho, Caren Loebel-Fried, Kai Kaulukukui, Brandy Nālani McDougall, Craig Santos Perez and Susan Schultz.
"These series of events will be opportunities for our community to connect with authors and artists whose writings and works are so beloved; but more importantly, to start a conversation with each other, share diverse perspectives, and be truly inspired by poetry, books, art and culture," said Joy Oehlers, an information literacy librarian at Kapiʻolani CC.
Windward CC events
The two events featured at Windward Community College are: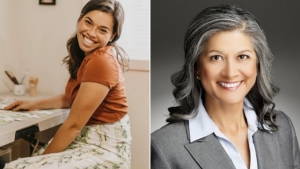 Uncovering Hawaii's Native Florals through Stories and Journaling with Emily States @Kaulumaika
Thursday, March 24, 3–4 p.m.
Free, online; register for the Zoom link.
As a mom, wife, and artist entrepreneur, Emily will share her artistry, stories and passion for Hawaiian culture through creativity, community, and education.
An Introduction to Genetic Genealogy: Enhancing your family history research using DNA
with Jane Kamakaʻeha Culp, genetic genealogist, Native Hawaiian
Wednesday, April 6, 4–5 p.m.
Free, online; register for the Zoom link.
Using examples from her own Hawaiian genealogy research, Jane will explain what ancestral DNA is, how it is passed from one generation to the next, and why you might want to test your own DNA.
Windward CC's library will have book giveaways that include An American Sunrise. Winners must be registered for the event and be able to pick the books up from the campus library lockers. For more information, contact Windward CC Librarian Cindy Texeira at (808) 235-7340 or ctex@hawaii.edu.
University of
Hawaiʻi

–West

Oʻahu

events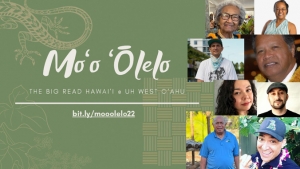 Explore and celebrate how people tell stories and apply knowledge through different mediums—the written or spoken word, visual arts, cultural practice, and the environment—at Moʻo ʻŌlelo, a series of presentations hosted by the James and Abigail Campbell Library at the University of Hawaiʻi–West Oʻahu.
Moʻo ʻŌlelo presentations will be held at 1 p.m. on Tuesdays and Thursdays starting March 22, via Zoom. All presentations are free and open to the public.
Moʻolelo Kai with Uncle Kaipo Pomaikai
Tuesday, March 22. Register online.
Uncle Paul "Kaipo" Pomaikai Sr. (Nānākuli, Oʻahu), a retired Merchant Marine officer and tug boat master, will share his moʻolelo and lessons learned from growing up as a keiki o ke kai, ʻōpio, and makua on the beaches of Nānākuli on the island of Oʻahu.
Moʻolelo Hoʻoponopono with Aunty Lynette and Kaʻaiʻai Paglinawan
Thursday, March 24. Register online.
Loea hoʻoponopono, Aunty Lynette Paglinawan and Kaʻaiʻai Paglinawan (Kahaluʻu, Oʻahu), will share their moʻolelo as hoʻoponopono practitioners.
Creating Local Superheroes with Chris Caravalho (Mana Comics)
Thursday, March 31. Register online.
Join Chris (Oʻahu) from Mana Comics as he discusses the journey to becoming a self published comic book creator and how to create your own superheroes.
Ola (i) ka moʻolelo: Living (because of) Moʻolelo | Navigating Pacific Culture Through Poetry with Brandy Nālani McDougall and Craig Santos Perez
Thursday, April 7. Register online.
Brandy Nālani McDougall (Aʻapueo, Kula, Maui) will focus on ancestral moʻolelo as life-giving and life-saving. As part of that, McDougall will share moʻolelo of being an ʻŌiwi poet and scholar as well as the ways she incorporates moʻolelo into her work while Craig Santos Perez (Guam) will explore how poetry can help us navigate the complexities of Pacific culture, identity, and politics.
Moʻolelo Honouliuli with Uncle Shad Kane
Thursday, April 14. Register online.
Join Uncle Shad Kane (Mānana, Oʻahu) as he shares some of his favorite moʻolelo of the ʻEwa moku with special focus on the ahupuaʻa of Honouliuli.
Hana Noʻeau with Kaiʻili Kaulukukui
Thursday, April 21. Register online.
A talk story with Kanaka Maoli artist, Kaiʻili Kaulukukui (Hilo, Hawaiʻi), about working to navigate the waters of the contemporary art world, while keeping one foot on the ancestral homeland.
Read more about Moʻo ʻŌlelo at UH West Oʻahu.
Big Read Hawaiʻi is supported by the Hawaiʻi State Public Library System, Read To Me International, UH West Oʻahu library and Windward CC library. It was made possible by a $20,000 grant from the National Endowment for the Arts in partnership with Arts Midwest.
View the NEA Big Read Hawaiʻi calendar of events and register online.