The University of Hawaiʻi community is creating a buzz ahead of the 11th annual head-shaving fundraiser hosted by St. Baldrick's Foundation on April 24, 12–5 p.m. UH students, faculty, staff and the general public are invited to support the organization which has helped to provide opportunities for doctors, summer research fellows and earth scientists.
St. Baldrick's Foundation has granted more than $470,000 to researchers and student fellows focused on pediatric cancer research at the UH Cancer Center, UH Mānoa's John A. Burns School of Medicine (JABSOM), Kapiʻolani Medical Center for Women and Children and Tripler Army Medical Center.
The main event is the signature head shaving for participants who have raised money to fund life-saving research.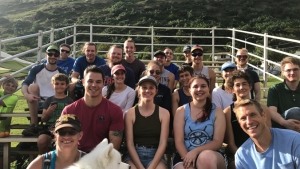 "Everyone is welcome to support this effort by attending the event, pledging monetary donations that support the event as a whole, or by clicking on your favorite participant to support their head shave," said Wendy Cockshell, event lead organizer who works at UH Mānoa's School of Ocean and Earth Science and Technology (SOEST) and the National Disaster Preparedness Training Center.
There are additional ways volunteers can support this mission. The UH Geophysical Society (UHGS), a group led by SOEST Department of Earth Sciences graduate students, will raise funds through their annual charity softball tournament. During the last fundraiser, UHGS donated $1,238 to the foundation.
Commitment runs deep
Many participants return, year after year, to contribute to the worthy cause.
Bruce Shiramizu, a JABSOM pediatrician and researcher, has mentored numerous summer fellows, conducted important research and was honored for his long-term commitment to children and their families, and raising funds for lifesaving research.
"Dr. Bruce has shaved his head for 10 years and at our last event, he was knighted as a 'Knight Commander' in the honorable League of Legendary Heroes, our knights of the Bald Table," said Cockshell.
After receiving the honor at the virtual event, Shiramizu presented his research that was funded by a St. Baldrick's grant. His presentation can be viewed online (starting at 46 minute mark).
Cockshell and her family have a deep personal commitment to the mission of St. Baldrick's Foundation. At five years old, their daughter Haley was diagnosed with Medulloblastoma, a brain and spinal cord cancer, and began a long and very hard battle for her life. They continue to fund research in her honor, knowing so many other children and their families need help.
"Innovative treatments allowed us precious time with our daughter," said Cockshell. "The St. Baldrick's Foundation supports research that saves the little lives of her friends and it makes living their lives better."