University of Hawaiʻi at Hilo students gathered recently to weave lei and learn about thousands of leprosy patients who lived and died in Kalaupapa. From 1866 to 1969, more than 8,000 people who contracted Hansen's disease were exiled to the remote area along the north shore of Molokaʻi.
Kerri Inglis, a history professor at UH Hilo and student peer mentor Sheldon Rosa spearheaded a presentation at the school's Campus Center about what patients endured.
"We wanted to present to the students in attendance, not only some basic background about the history of Hansen's disease (leprosy) in Hawaiʻi, but also to be able to reflect on some of the parallels and lessons about resilience and perseverance that we can apply to our circumstances today," Inglis said.
Rosa highlighted parallels between the current COVID-19 pandemic and the wave of leprosy that swept through Hawaiʻi in the 1800s.
"Even though we are going through these hard times, it's very similar to the issues that the kūpuna had to face," he explained. "Just honoring them for their resiliency as well as how they persevered, stuck together, that ʻohana unit."
Lei
Haliʻa

O Kalaupapa, Lei in Remembrance of Kalaupapa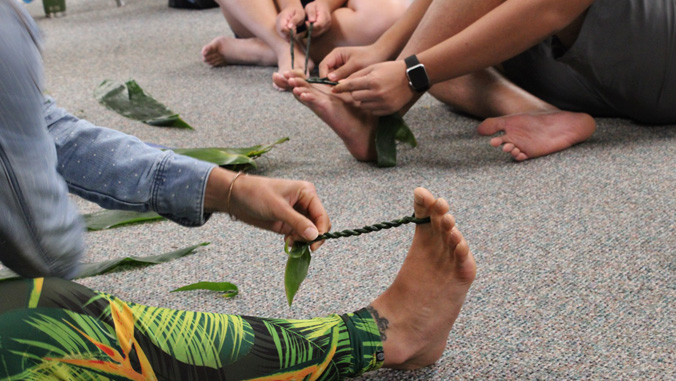 Students learned to make lei lāʻī or ti-leaf lei to be laid on patients' graves in Kalaupapa. Countless strands of lāʻī were twisted and tightly woven into a braid-like lei.
Attendees were encouraged to converse with each other while remembering the nature of their task and keeping thoughts pono.
The February 24 event was hosted by the UH Hilo Ka Lama Ku Development Leadership Program, UH Hilo Kīpuka Native Hawaiian Student Center and Hui Mālama Makanalua, a non-profit community group dedicated to paying homage to leprosy patients. Inglis and Rosa are hui members.
Lei were frozen and will be stored until June to be placed on gravesites by members of the hui.
Read more at UH Hilo Stories.
—by Kirsten Aoyagi