A trailblazing alumna of the University of Hawaiʻi at Mānoa's Center for Pacific Islands Studies (CPIS) has earned a national teaching award at one of Australia's top-ranked universities. Professor Katerina "Kati" Teaiwa was named the 2021 Australian University Teacher of the Year for her embodied and innovative approach to teaching Pacific studies. Teaiwa is the first Indigenous woman from the Pacific to win the award and be promoted to full professor at Australia National University (ANU).
Teaiwa was born and raised in Fiji to parents of Banaban, I-Kiribati and African American heritage. This heritage has remained influential in her research and writing.Her highly-regarded book, Consuming Ocean Island: stories of people and phosphate from Banaba (2015), explores the history of phosphate mining on the island and the ongoing impacts of colonial management.
Teaiwa also previously taught at CPIS as an assistant professor, advocating for rigorous interdisciplinary approaches to Pacific Islands Studies, a commitment she maintained when she joined ANU and established the campus' very first Pacific Studies undergraduate program. Her approach continues to inspire movements in Pacific Islands Studies at UH Mānoa and across Oceania.
"Most of my classes feature embodied knowledges, such as Pacific dance, and this can be both challenging and empowering as students learn how to connect dance to Pacific values, identities or issues such as gender relations," Teaiwa explained. "Teaching and learning dance demonstrates how there are other ways important to understand and connect with the Pacific beyond lectures, scholarly literature and policy reports."
"Katerina has always been an excellent, charismatic teacher," said Terence Wesley-Smith, a recently retired professor at CPIS who mentored Teaiwa. "She has a presence in the classroom that commands attention—even the least motivated students tend to sit up and take notice. She asks her students to learn Pacific songs and to dance, both to further a sense of community and to offer a flavor of island cultures, languages and sensibilities."
Bridging concepts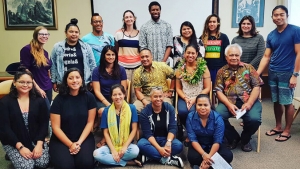 Teaiwa continues to transform scholarly research and extend this notable interdisciplinary work by exploring Banaban histories through a touring visual art exhibition, Project Banaba. In 2019, the award-winning scholar teamed up with CPIS' former Outreach Director James Viernes for a 16-day field school at Palau Community College. The event brought together students from CPIS and ANU and focused on hands-on learning to bridge between theoretical concepts learned in the classroom and real-world contexts in Oceania.
"This was the first CPIS field school that was not language based, and Dr. Viernes and I were the first Indigenous Micronesian scholars to lead this scholarly effort in Micronesia on behalf of both CPIS and ANU," Teaiwa said. "It really highlighted the unique ways that Pacific Islands Studies is community engaged and focused on Indigenous experiences and worldviews."
Teaiwa is a Pacific Studies professor and deputy director of Higher Degree Research Training in the School of Culture, History and Language, College of Asia and the Pacific at ANU. She also serves on the board of CPIS' high-impact journal The Contemporary Pacific as the arts editor. Teaiwa co-edited the latest volume in University of Hawaiʻi Press' Pacific Islands Monograph Series, Sweat and Salt Water: Selected Works of Teresia Kieuea Teaiwa.
This work is an example of UH Mānoa's goal of Excellence in Research: Advancing the Research and Creative Work Enterprise (PDF), one of four goals identified in the 2015–25 Strategic Plan (PDF), updated in December 2020.