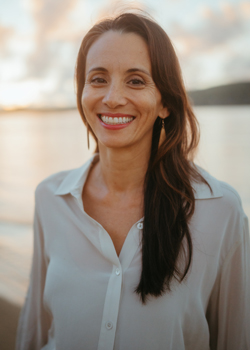 A University of Hawaiʻi at Mānoa professor and administrator has been named a Kamehameha Schools trustee. Noelani Goodyear-Kaʻōpua, interim assistant vice provost for faculty excellence and Department of Political Science professor, is the newest addition to the five-member Kamehameha Schools Board of Trustees. Goodyear-Kaʻōpua is the first active UH faculty or staff member to serve as a trustee. Her five-year term begins immediately.
"I am filled with gratitude for the vision that our aliʻi, such as Bernice Pauahi Bishop, and her contemporaries like Queen Liliʻuokalani, Queen Emma and others had for the well-being of the Hawaiian people," Goodyear-Kaʻōpua said. "With that in mind, it's a deep honor to be able to try and steward the trust and the vision forward for current and future generations."
According to Kamehameha Schools, "The board of trustees provides the strategic direction and focus necessary to fulfill and sustain the vision, mission and values of Kamehameha Schools." Goodyear-Kaʻōpua, a Kamehameha Schools Kapālama alumna, hopes to contribute her extensive background in education to the board.
"The current Board of Trustees has tremendous expertise in finance, law and business. What I bring to the table is expertise and experience in education, particularly in creating and strengthening educational programs and institutions that have a specific goal and purpose to serve Hawaiian people and to lift up Hawaiian knowledge, and to protect Hawaiian lands, which I believe benefits all people who call Hawaiʻi home," Goodyear-Kaʻōpua said.
Goodyear-Kaʻōpua joins the board, which currently consists of Robert K.W.H. Nobriga, chairman; Elliot Kawaihoʻolana Mills, vice chairman; Crystal Kauilani Rose, secretary/treasurer and Lance Keawe Wilhelm. Nobriga previously served as the chief financial and operations officer of the John A. Burns School of Medicine. Mills earned his bachelor's degree in travel industry management from UH Mānoa, and Wilhelm earned his bachelor's degree in communications from UH Mānoa.
More about Goodyear-
Kaʻōpua
Goodyear-Kaʻōpua has served for the past year as UH Mānoa's interim assistant vice provost for faculty excellence, overseeing all academic personnel for a campus that serves more than 18,000 students. Prior to that, she was the chair of the Department of Political Science in the College of Social Sciences, responsible for overseeing the bachelor's, master's and doctoral programs; leading faculty; overseeing curriculum; supporting students; and leading the department's Western Association of Schools and Colleges accreditation review.
A UH Mānoa professor since 2007, Goodyear-Kaʻōpua helped to build UH Mānoa's Indigenous politics program by establishing school-community partnerships, creating new courses and nurturing international exchange programs. She has led many collaborative initiatives between students, teachers, advocates and others in the community. In addition to teaching political science courses, Goodyear-Kaʻōpua also taught three cohorts of Kamehameha Schools teachers earning master's degrees in the UH Mānoa College of Education.
Among the awards she has received at UH Mānoa include: the UH Board of Regents Medal for Excellence in Teaching in 2019, the Dr. Amefil Agbayani Faculty Diversity Enhancement Award in 2019 and the Chancellor's Citation for Meritorious Teaching in 2013.
Goodyear-Kaʻōpua is also a co-founder, former instructional leader, parent and local school board member of Hālau Kū Māna New Century Public Charter School—a Hawaiian culture-based secondary school in Honolulu—working closely with teachers, families and community partners to develop and improve Hawaiian culture-based education at the ground level.
Goodyear-Kaʻōpua holds more than 20 years of experience in board governance for organizations focused on academics, community-based education and social justice. These organizations include: Kānehūnāmoku Voyaging Academy and Hui o Kuapā on Molokaʻi, which have deepened her understanding of ʻāina-based education in different island contexts.
Goodyear-Kaʻōpua earned her bachelor's degrees in Hawaiian studies and political science from UH Mānoa, and her PhD in history of consciousness from the University of California, Santa Cruz.
"I'm very grateful for all the people who have not just supported me personally but, who have over the years, really shown that it is important that beneficiaries have a say in the process of selecting trustees for the estate," Goodyear-Kaʻōpua said. "It wasn't like that when I graduated from Kamehameha 30 years ago. But this has changed because of the hard work and the excellence that so many Hawaiian leaders and educators have demonstrated."
This work is an example of UH Mānoa's goals of Becoming a Native Hawaiian Place of Learning (PDF), Excellence in Research: Advancing the Research and Creative Work Enterprise (PDF) and Enhancing Student Success (PDF), three of four goals identified in the 2015–25 Strategic Plan (PDF), updated in December 2020.