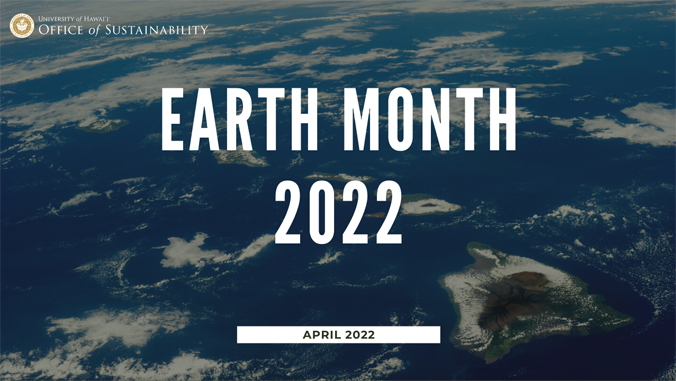 University of Hawaiʻi campuses are celebrating Earth Month with events scheduled throughout April, and Earth Day, April 22.
UH Office of Sustainability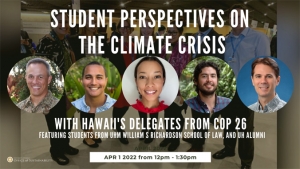 The UH System Office of Sustainability hosts a series of Earth Month events online exploring a diverse range of perspectives about our roles and responsibilities on a changing planet, beginning Friday, April 1 at 12 p.m. with "Student Perspectives on the Climate Crisis," a discussion with students from the William S. Richardson School of Law and UH alumni who represented Hawaiʻi at the United Nations Framework Convention on Climate Change in November 2021.
RSVP to receive notifications of this event series. For more information and events, see the 2022 Earth Month website.
UH Mānoa
The UH Mānoa Native Hawaiian Place of Learning Advancement Office is offering Aloha ʻĀina Fridays to honor Mānoa during Earth Month. This is an opportunity to learn Welina Mānoa, a chant written for Mānoa, and to engage in discussion about Mānoa on April 1 and April 15.
The Better Tomorrow Speaker Series is hosting a lecture titled "Our Clean Energy Future" with Leah Stokes. The event is in-person on April 21 at 6:30 p.m. See this website for more details and to register.
The College of Tropical Agriculture and Human Resources is hosting an Earth Day event on Saturday, April 30, 11 a.m.–2 p.m. at Hale Tuahine. All activities are family friendly, including arts and crafts, participatory cooking, nutrition education, composting, garden tour, and planting that families can bring home.
The Native Hawaiian Place of Learning Advancement Office also partnered with the Hawaiʻi Island Land Trust and the UH Office of Sustainability to host a Pilina Circle centered around honoring Earth Month on April 29.
For more information see the UH Mānoa Native Hawaiian Place of Learning Advancement Office website or contact nhpol@hawaii.edu.
UH Hilo and
Hawaiʻi

Community College

UH Hilo and Hawaiʻi CC continue to partner to deliver an inspiring set of events—through both virtual sessions and mālama ʻāina huakaʻi or excursions across the island—to which the UH community and K-12 students and their ʻohana are invited. What binds the 40 events is the theme "Wānana i ka Mauliola: Projecting & Manifesting a Thriving Earth."

For more information, see UH Hilo's the Lā Honua Earth Month 2022 website.

For more information, see Hawaiʻi CC's the Lā Honua Earth Month 2022 website.
Kapiʻolani

Community College

Kapiʻolani CC has a Celebration of Sustainability Spring Gathering for the Sustainability Across the Curriculum event on April 8. It will feature a 30-minute live virtual forest bathing session which begins at 10 a.m. via Zoom.

Also, Kapiʻolani CC is collaborating with Center for Resilient Neighborhoods, Resilience Corps Leaders, ʻIolani School, Chaminade University of Honolulu and Pālolo Housing Association to do a planting day at their plantation on Saturday, April 23 from 8–11 a.m. For more information, contact Denise Pierson at dpierson@hawaii.edu.

The Kapiʻolani CC Ecology club is hosting a monthly workday where they go to the Kanealole trail in Makiki once a month to rid the trail of invasive plants. Participants can sign-up online.

For more information, see the event website or contact Miku Lenentine at miku4@hawaii.edu.
Honolulu Community College
For Earth Month, Honolulu CC is celebrating Ka Māla o Niuhelewai annual Hoʻolualeʻa—a week-long celebration from April 18–22. This year the theme is "Planting Seeds and Cultivating the Environment (Kanu ʻia Ka Huli, Ulu Ka ʻāina)." The celebration includes virtual workshops and hands-on activities educating students, faculty and staff about Hawaiian culture and sustainability issues. The week will culminate on April 22 with a Hawaiian food plate from the imu via drive-by pickup on campus.
For more information, see the Honolulu CC event website.
Leeward Community College
Leeward CC celebrates Earth Month with activities and events promoting sustainability. Events include a glass upcycling workshop, Social Justice League Sustainability film screening and discussion, green swag giveaway and more.
For more information, see the Leeward CC Earth Week website.
UH West
Oʻahu
More information TBA.
Kauaʻi

Community College

More information TBA.
Windward Community College
More information TBA.
UH Maui College
More information TBA.
This story will continue to be updated as campuses announce their events during the month of April.