Some of the almost 600 Lunalilo Scholars, who have benefited from a free transformative first-year college experience at Kapiʻolani Community College over the past decade, are giving back in a big way.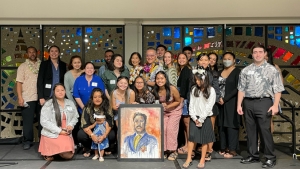 Alumni of the Lunalilo Scholars Program at Kapiʻolani CC recently honored philanthropists Lester and Marian Kaneta, who have supported the life-changing program for more than 10 years, by announcing a crowdfunding campaign to endow a scholarship in their name. Inspired by their generosity, the new Kaneta Leadership Award will fund a second year of studies for a Lunalilo Scholar at Kapiʻolani CC.
"Scholars have an eternal gratitude for the donors because they are taking a chance on them without even knowing them," said LaVache Scanlan, program director. "Students have shared time and time again about how amazing the donors are to give in this way. They have a sense of pride in this program and make a commitment to represent the program in a positive way."
Transforming lives
The Lunalilo Scholars Program is an opportunity for students to transform their lives through education. The program was designed to uniquely serve and support students who demonstrate academic potential, but lack the family and financial support to attend college. Besides tuition, scholars receive the means and personalized support they need to start a new life during their first year of college at Kapiʻolani CC.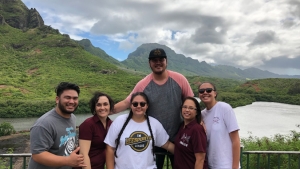 Many start the program with little more than a strong desire to work hard and get ahead. Some are near the brink of homelessness, or stuck in low paying jobs without possibilities for career advancement. Once admitted to the program, Lunalilo Scholars gain confidence, peer support and skills. They begin to see hope, and realize they can take steps to break the poverty cycle, find their purpose, and give back to their community.
The Lunalilo Scholars Program started in 2012 with 21 students. Since then, it has transformed close to 600 lives. Scholars outperform their peers in the number of degrees and certificates awarded and the number of transfers to a University of Hawai'i four-year institution. There are at least five alumni who are working toward or who have earned a master's degree and there is one PhD. candidate. The Lunalilo Scholars take more credits, have higher grade point averages, and are more likely to finish their first year and complete their second year.
Hope, love and faith
The program is deeply personal to Scanlan.
"A scholar and I discussed how to describe the Lunalilo Scholars Program as it has always been hard to find the right words because so much of it is about how it makes you feel. She created the phrase, 'The cycle of hope, love and faith,' and we've used it ever since," Scanlan said.
Scanlan explained the program provides a sense of hope for the future—hope for something better. The Lunalilo Scholars Program is about removing barriers, solving problems and moving forward. Love is symbolic of all the people in the program, faculty and staff at Kapiʻolani CC, the scholars, and creating a sense of family and community, beginning with the Summer Bridge. Faith describes the students taking a leap of faith when they enter the unknown world of college. The Lunalilo Scholars Program provides a strong foundation, so the scholars know they can do anything they set their minds to. In turn, they then help to set that foundation for other scholars.
"We have a saying, 'Once a Lunalilo Scholar, always a Lunalilo Scholar.' The scholars see themselves as connected to each other and they inspire each other to give back," Scanlan said. "It's the cycle of hope, love and faith."
Read more about the Lunalilo Scholars Program at UH News.