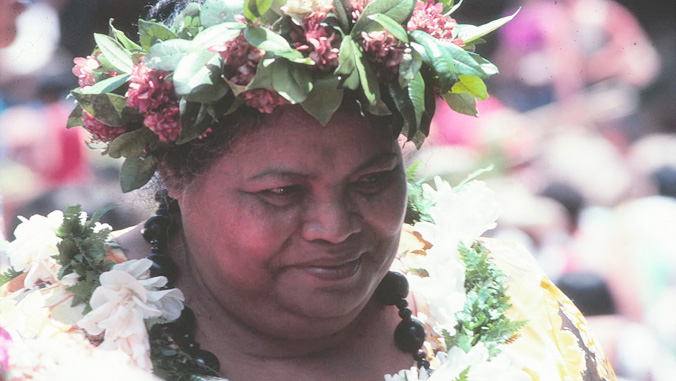 The late legendary kumu hula and University of Hawaiʻi instructor Edith Kanakaʻole is among the 2023 honorees for the American Women Quarters™ Program announced by the United States Mint. An award-winning composer and former instructor at Hawaiʻi Community College and UH Hilo, Kanakaʻole will be one of five American women to be minted on new quarters next year, joining fellow honorees such as former first lady Eleanor Roosevelt and Maria Tallchief, America's first Native American prima ballerina.
During her time at Hawaiʻi CC and UH Hilo, Kanakaʻole developed a variety of courses on ethnobotany, Polynesian history, genealogy and Hawaiian chant and mythology. To honor her monumental contributions to the Hilo campus, the humanities building at UH Hilo which houses subjects such as languages, English, philosophy and kinesiology is named in honor of the Keaukaha native.
Pualani Kanakaʻole Kanahele, a retired Hawaiʻi CC Hawaiian studies professor and daughter of the late Kanakaʻole, released this statement on the Edith Kanakaʻole Foundation website: "My mother was a 'pusher' but she always did it with a smile. She pushed all six of her children, when it was not yet a natural process for Hawaiians, toward higher education to earn a degree. When she became an instructor at the University of Hawaiʻi in Hilo, she encouraged Hawaiian students to 1) maintain their stay and earn their degree, 2) know who they were as Hawaiians and elevate the status of the Lāhui."
In 1999, Kanahele helped launch I Ola Hāloa Center for Hawaiʻi Life Styles at Hawaiʻi CC. The program, which stresses the importance of Hawaiian cultural values and practices in higher education, is intertwined with teaching styles and lessons that stem directly from Kanakaʻole.
Taupōuri Tangarō, a Hawaiian studies professor at Hawaiʻi CC and director of Hawaiian culture and protocols engagement for Hawaiʻi CC and UH Hilo, put Kanakaʻole's service to the UH system in the context of today's Hawaiʻi Papa O Ke Ao Initiative, which was created to address the higher education needs of Native Hawaiians and make UH a model Indigenous-serving institution.
"Edith began indigenizing higher education in 1973, beginning here at Hawaiʻi Community College, nearly 40 years before the Hawaiʻi Papa O Ke Ao initiative was established in 2012," said Tangarō. "She was stellar in her capacity to envision outcomes, and to intersect higher education and Indigenous culture."
Kanakaʻole founded Hālau o Kekuhi, an internationally recognized dance company known for its ʻaihaʻa or low-postured, bombastic style of hula. Kanahele and her sister, Nālani, were both trained by their mother in the classical art form, which can account for eight generations of kumu hula. The Edith Kanakaʻole Multi-Purpose Stadium in Hilo where the world-famous Merrie Monarch Hula Festival is held is also named in her honor.
In the late 1970s, Kanakaʻole recorded Hiʻipoi I Ka ʻĀina Aloha (Cherish the Beloved Land), which later captured a Nā Hōkū Hanohano award for Best Traditional Album of the Year. The album features mele (songs) that express her love for the land and includes compositions such as "Ka Uluwehi O Ke Kai" that celebrates the various limu of the sea, and is also a popular song performed by hula dancers of all ages.
Kanakaʻole died in 1979.