The University of Hawaiʻi at Mānoa's Provost Strategic Investment Initiative, a campus-wide competition designed to increase cross-unit and cross-disciplinary collaboration in strategic areas, is now accepting proposals. This year, $1.5 million in funding has been allocated to the competition, themed "Building on Lessons Learned through the Pandemic." The deadline for submissions is May 2.
Submissions for the competition may include:
Innovations in online and hybrid course and program delivery;
Attracting and retaining new learners (including transfers, non-traditional students);
High-impact practices that support student success and close achievement gaps;
Holistic support for students, faculty and staff (including wellness, career development, etc.).
Go to the 2002 Provost Strategic Initiative Investment page for more details.
We've seen many innovative proposals come through this competition, which led to successful and very impactful outcomes since their startups
—Michael Bruno
The inaugural competition, launched in 2017, provided start-up funding for a diverse set of initiatives. The second competition in 2020 focused on innovation in lower-division course delivery and integrating the university's top faculty and researchers into the undergraduate experience.
This is the third time the strategic investment initiative is being offered, which has since provided nearly $3 million toward 24 multidisciplinary integrated research and education projects that help produce transformational change across the university.
"We've seen many innovative proposals come through this competition, which led to successful and very impactful outcomes since their startups," said UH Mānoa Provost Michael Bruno. "Our faculty and staff have certainly persevered through a multitude of challenges in their respective areas during the pandemic and it will be interesting to see how we can turn those lessons into a collaborative approach that can impact student retention and engagement, program delivery and support for everyone in our campus community."
Impactful projects funded
Among previously funded projects include the Center for Microbiome Analysis through Island Knowledge and Investigation (C-MĀIKI), which was funded with an initial investment of $700,000. Since that initial investment, C-MĀIKI has generated more than $11 million in extramural funding to support research and curriculum development.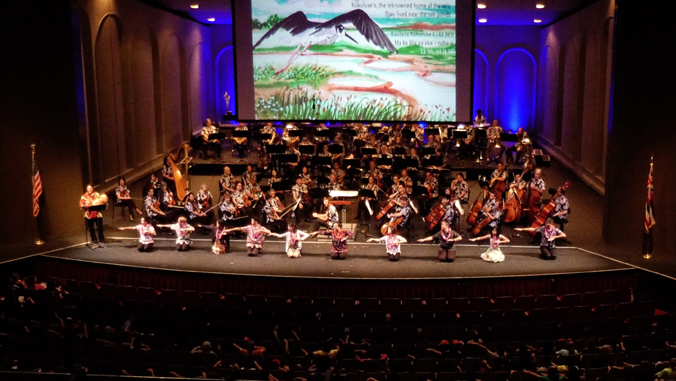 The Symphony of Hawaiian Bird project is another example that incorporates both science and music, to help educate the community about Hawaiian birds and the ongoing extinction crisis faced by native forest bird species. In 2018, the partnership with the Hawaiʻi Symphony Orchestra included performances that brought together thousands of students, teachers, parents, scientists, educators, composers, artists and conservationists to celebrate Hawaiʻi's endangered native forest birds and hear their songs.