Sometimes we have had a class where the subject material seems a bit tough to interpret. And sometimes a teaching assistant who has been in our place helps make the connections we could not initially see.
University of Hawaiʻi at Mānoa graduate students who have studied any life sciences field as an undergraduate or graduate student are invited to apply to become a teaching assistant (TA) in the School of Life Sciences.
According to School of Life Sciences Associate Director of Instruction Stephanie Kraft-Terry, the school is looking for approximately 64 TAs to assist in teaching undergraduate labs in the areas of biology, botany, marine biology, microbiology and molecular cell biology.
"We hire TAs with background in both undergraduate and graduate studies in the life sciences and encourage anyone with that background who is interested in providing excellent instruction to undergraduate students, regardless of their graduate program, to apply," Kraft-Terry said.
The application review deadline is April 29. Applications will continue to be accepted but priority will be given to those students who submit an application by April 29. Visit the School of Life Sciences website for more information and to apply.
Creating an impact for students
Breena Gaskov is working as a life sciences TA, while finishing up her first year as a student in the master's of public health in epidemiology program. Gaskov holds an undergraduate degree in biology with a focus in microbiology.
"Being a TA for the School of Life Sciences allows me to make that impact on students who are looking for their passion in science, and guide them along the way," Gaskov said. "For me, becoming a School of Life Sciences TA was a no brainer. I now get to come full circle and teach others in the same way that made me fall in love with science!"
Along with receiving a nine-month salary and tuition waiver, Gaskov said one of the major benefits is to be able to personalize your instruction to your skill set.
"I purposely teach in the same way that worked best for me when I was in my students' place," Gaskov said. "I have the ability to make even difficult subjects fun, for both me and the students! The biggest one though, for me, is the ability to see the impact being made on students. I have had multiple students walk into class and tell me 'I was having a bad day today and this class made it better,' and 'I actually look forward to coming to this lab.' I always leave the lab feeling full of happiness, every single time."
Gaining self-confidence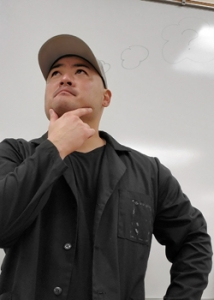 Chris Nakano became a life sciences TA after hearing about the position from fellow peers in his classes. He earned his graduate degree in molecular biosciences and bioengineering in fall 2021.
"Aside from the tuition exemption and stipends, the office staff, lab coordinators and principal investigators are incredibly supportive in both the sense of helping you excel as a budding educator and understanding of your busy schedule as a student," Nakano said. "It's a great introduction to scientific pedagogy, and you'll nurture the self-confidence to troubleshoot the basic lab techniques prevalent in any scientific laboratory. You'll also be surrounded by experts in the field that are generous in experience and wisdom, who are incredibly eager to share their counsel."
Nakano recommends interested applicants to apply early, have enthusiasm and be committed.
This work is an example of UH Mānoa's goals of Enhancing Student Success (PDF) and Excellence in Research: Advancing the Research and Creative Work Enterprise (PDF), two of four goals identified in the 2015–25 Strategic Plan (PDF), updated in December 2020.
—By Marc Arakaki