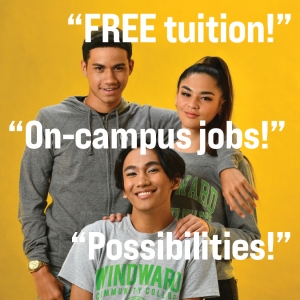 Free tuition for the first year and opportunities for on- and off-campus jobs are available this fall for Windward Oʻahu high school graduating seniors enrolling at Windward Community College.
The Hoʻolei Tuition Award provides full-tuition for the first year—fall and spring semesters—at Windward CC for 2022 graduates of public and charter schools in Windward Oʻahu. The award offers tuition savings of up to $3,144, and, for many, a chance to attend college.
On- and off-campus jobs will allow students to work, earn money and gain valuable experience while pursuing their degrees. Windward CC offers jobs on campus with flexible schedules to support students during class time and exam periods, and partners with Windward area businesses that provide college-friendly workplaces.
"Hoʻolei allows our students to pursue college and the rewarding, often higher-paying careers it opens doors to, growing the students and providing for our families and communities. Our seniors are our next community leaders! Hoʻolei, through the generosity of Harold K.L. Castle Foundation, provides the possibility for college and a pathway to leadership!" said Windward CC Chancellor Ardis Eschenberg.
Graduating seniors in Hawaiʻi's class of 2022 can apply now for the upcoming summer and fall 2022 semesters at kamaaina.hawaii.edu.
Helping students persist during COVID-19
Windward CC has made a significant commitment to serving the needs of students during the COVID-19 pandemic by providing food to hungry students through the Meals with a Mission program.
Now, $400,000 of tuition support is available to high school graduates attending Windward CC over the next two years. The Hoʻolei Tuition Award was created with a grant from Harold K.L. Castle Foundation. To learn more about Windward CC's Hoʻolei Tuition Award program, email hoolei@hawaii.edu or visit the Hoʻolei web page.
Windward CC also features the Hānaiaulu Childcare Center, the only Hawaiian language-based childcare center in the UH system, which provides students with access to quality infant and toddler childcare.
Innovative program offerings
With stunning facilities such as Palikū Theatre, a 65,000-square-foot library, Gallery 'Iolani, Hōkūlani Imaginarium, and some of the best art studios and science labs in the state, Windward CC is not only a great place to learn, it is a place to discover what is possible.
"They care so much about my future. From connecting me to auditions with theatre companies to helping me get scholarships. I'm just so thankful for all of these opportunities that I've been offered," said Windward CC theatre student Alysia-Leila Kepaa.
Some of the unique range of programs offered at Windward CC include:
Hawaiʻiloa

, first online Hawaiian studies degree in the world, which is offered to the

Hawaiʻi

diaspora in a series of 8-week classes taken two at a time.
Business Core, 8-week online classes taken two at a time fulfills Windward CC's academic subject certificate in business and prerequisites needed to transfer into UH Mānoa's Shidler College of Business.
Liberal Arts AA online degree with entrepreneurship focus, earn an associate's degree in a series of 8-week online courses designed to support starting your own business.
Veterinary Technology AS degree, the first and only degree of its kind in

Hawaiʻi

, and Veterinary Assisting certificate, leading to jobs in the veterinary medicine field, now offered in a hybrid format.
Agripharmatech certificate, an entrepreneurial emphasis on plant-based bioproduct research, design and manufacturing prepares students for work or higher education.

Hawaiʻi

Conservatory of Performing Arts, professional preparation in dance, acting and stage combat; students demonstrate skills in award-winning performances at Palikū Theatre and beyond.

Kaʻohekane

, one-year online certificate in Hawaiian music focuses on performance.
Gallery ʻIolani where design, ceramics and painting students exhibit their works.
Unique noncredit programs such as ocean recreation safety, certified nurse's aide and leadership training, focusing on workforce development.
"We cherish all the young people in Windward Oʻahu and hope this tuition award makes it a little easier to pursue their most ambitious dreams. And we hope many will launch those dreams at Windward Community College, a dynamic learning institution in our own backyard," said Alex Harris, vice president of programs at Harold K.L. Castle Foundation.
For information about Windward CC programs, visit windward.hawaii.edu.