An archaeological field research project that takes a bottom-up approach to better understand the Angkorian empire just received a four-year, $318,359 National Science Foundation award. Led by University of Hawaiʻi at Mānoa Department of Anthropology Professor Miriam Stark and University of Oregon faculty member Alison Carter, the P'teah Cambodia project focuses on the everyday lives of the Angkor people.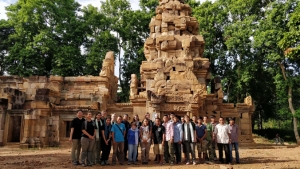 "Most historians chronicle the history of rulers: their dynastic sequence, their achievements and their monuments. Our work focuses instead on the people who made Angkor function," said Stark. "Although Angkor is one of the largest preindustrial settlements in the world and has been the focus of substantial scholarly attention, we still know little about the people of Angkor: who built the temples, kept the shrines running, produced food, managed the water and farmed the crops that supported the empire. The P'teah Cambodia project will study Angkor households and their activities, and explore the roles of households and non-elites in the Cambodian past."
The P'teah Cambodia research team, co-directed by Stark and Carter and their Cambodian collaborators, will conduct mapping, excavating and post-fieldwork analysis in the Angkorian site of Prasat Baset in Battambang Province. Seng Khang and Jaratnapa Surinlert, two UH Mānoa archaeology graduate students who specialize in Southeast Asian archaeology, will also participate.
Greater Angkor, the Angkorian capital, was connected to and dependent on large provincial centers that channeled goods and labor to the capital, such as the Battambang Province. Battambang, once called the rice granary of Cambodia, traditionally produced big agricultural surpluses and was also a historically contested boundary area between Cambodia and Thailand. Its population was wealthy and a bit independent from the two nation-states.
The P'teah Cambodia project is a collaboration between Cambodia's Ministry of Culture and Fine Arts, UH Mānoa's Department of Anthropology, and the University of Oregon's Anthropology program. It is the fifth consecutive project in Cambodia that UH Mānoa's anthropology department has hosted since the 1990's as part of a decades-long collaboration between UH Mānoa and Cambodia's Ministry of Culture and Fine Arts.
UH Mānoa's Department of Anthropology is housed in the College of Social Sciences.
This work is an example of UH Mānoa's goal of Excellence in Research: Advancing the Research and Creative Work Enterprise (PDF), one of four goals identified in the 2015–25 Strategic Plan (PDF), updated in December 2020.